Ibiza, the White Isle, has many faces. The legendary clubs, for one, but also a vibe of laid-back boho luxury — which is reflected in the architecture — as well as the cool beach bars and the edgy dining scene. A mystical magnetism, a rugged natural beauty and purity of the light put the island on the hippy trail in the 1960s, expressed now in the many yoga and meditation retreats, craft markets and thriving creative scene.
You'll find some of the most luxurious villas in the Balearic islands here, many of them tucked away from the busy resorts, with hypnotic sunset views and shimmering infinity pools. The stark white architecture that gives the island its name is ubiquitous but you'll find characterful stone-built fincas in the countryside, too, with wooden beams and citrus trees on the lawn. Some villas are ideally positioned for the big club scene, for sure, but don't overlook Ibiza as a family-friendly destination, or a place simply to kick back and soak up the island's artistic, peace-loving aura.
Main photo: Can Farallon (see number 5, below)
This article contains affiliate links.
All products and brands mentioned in this article are selected by our writers and editors based on first-hand experience or customer feedback. We feature properties from a specially selected list of trusted operators who are of a standard that we believe our readers expect. This article contains links which are ads and if you click on a link and buy a product we will earn revenue. The revenue generated will help us to support the content of this website and to continue to invest in our award-winning journalism.

Show more

Show less
1. Villa Urpa, Cala d'Hort
This bougainvillea-draped hideaway, with deep terracotta walls, wood-beamed ceilings and a four-poster draped in frothy gauze is blissfully romantic. Outside, a day bed is shaded by pine trees and a stretched canvas sail, while the pool has views across the treetops to the sparkling Mediterranean and the towering rock of Es Vedra, an island believed by superstitious locals to have mystical powers. You can walk to the pretty cove of Cala Carbo in minutes, into Cala d'Hort for bars and restaurants or drive across the headland to the azure cove of Es Cubells. Get that chillout playlist ready for sunset; you're facing due west here.
Pool Y
Family-friendly Y
Sleeps 5
Price ££
Book now
2. Finca Can Basso, Santa Eulalia
Olive trees and vines surround this gorgeous old farmhouse, beautifully renovated to show off ancient wooden beams and exposed stone. There's space outside for 12 to while away long, lazy lunches in the covered dining area and a huge pool — 20m long — which should keep kids amused. Santa Eulalia is a short drive away for beaches, shopping and restaurants, while Cala Nova and Cala Llenya have soft, gently sloping sand as well as restaurants offering fresh grilled sardines for lunch.
Pool Y
Family-friendly Y
Sleeps 12
Price ££
Book now
3. Villa Na Xamena, Na Xamena
The 14m infinity pool is one reason you won't want to leave this dazzling villa — a series of white cubes perched high on the pine-forested cliffs at Na Xamena, in the wild north of the island. The villa itself is ultra-modern, with concrete flooring, white walls and sleek, designer furnishings. Double-height ceilings add to the air of grandeur, while multiple sunbathing terraces mean there's space and privacy for everybody. You'll need a car to nip down to the pretty coves of the north coast, although the achingly hip Hacienda Na Xamena, one of the island's top hotels, is just along the road.
Pool Y
Family-friendly Y
Sleeps 12
Price £££
Book now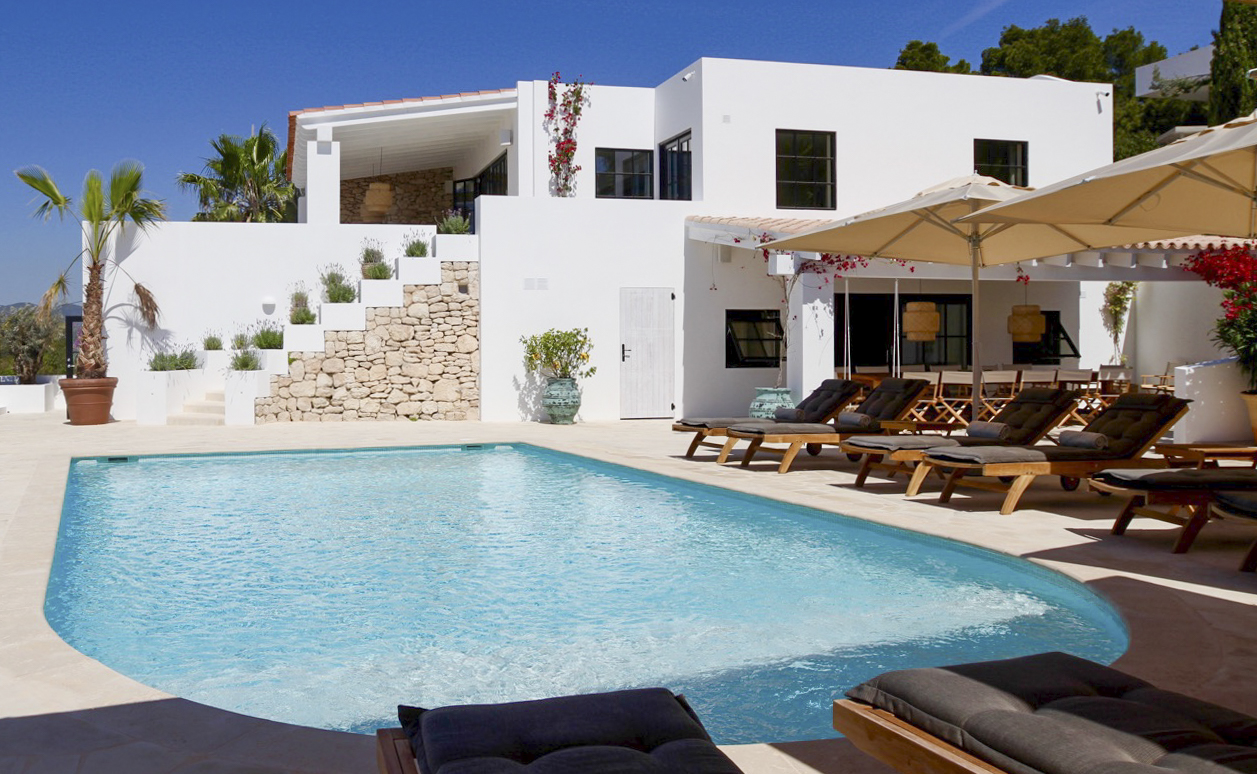 4. Villa Lunar, Jesus
You'll have uninterrupted views across to Formentera and Ibiza Town's ancient Dalt Vila, beautifully floodlit at night, from this spacious luxury villa. Located on a hillside some 6km north of town, Villa Lunar has a gorgeous pool area, all done out in white, as befits the White Isle, and plenty of outdoor dining space. With six en-suite rooms, it's ideal for a group of couples who want the freedom to hit the clubs or enjoy a lazier holiday, flopping in and out of the pool, swimming in the aquamarine waters of S'Estanyol beach or exploring the chilled-out bars and restaurants of nearby Jesus village.
Pool Y
Family-friendly Y
Sleeps 12
Price £££
Book now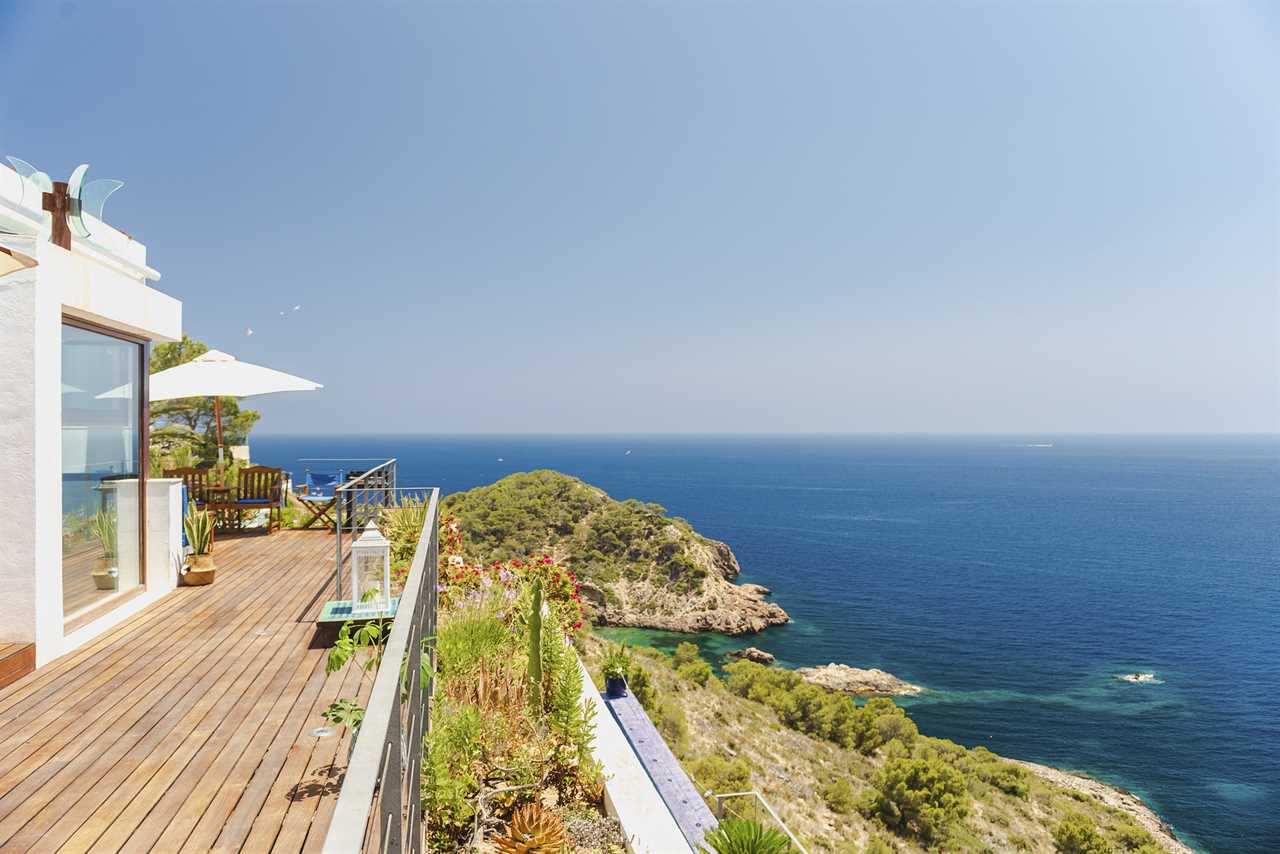 5. Can Farallon, Roca Lisa
Spilling over the cliff-face in the posh but tranquil Roca Lisa development, Can Farallon inspires peace, with its shimmering infinity pool, endless sea views and quiet setting, the hum of cicadas on the breeze. Bright splashes of contemporary art, colourful mosaics and Moroccan lanterns offset the all-white interiors of this gorgeous holiday home. Bag the master bedroom, complete with modern four-poster, and you can literally step out of your sliding doors into the pool. There's plenty to do if you can tear yourself away; golf and spa treatments on site, the rocky cove of Cala Olivera down the hill and the bars and shops of Ibiza Town in one direction and family-friendly Santa Eulalia in the other.
Pool Y
Family-friendly Y
Sleeps 8
Price £££
Book now
6. Villa Tamayo, Ibiza Town
Location is everything and this ultra-modern villa is within walking distance of both cool Ibiza Town and the gently sloping sands of Platja de ses Figueretas. The villa itself is uncompromisingly minimalist, all white and glass, softened with shades of cream and grey, and the pool area is dotted with oversized potted palms. Families are welcome, though, and this is a good choice if you don't want to hire a car as so much is accessible on foot. Ibiza has an excellent bus network, too, for jaunts further afield.
Pool Y
Family-friendly Y
Sleeps 6
Price £££
Book now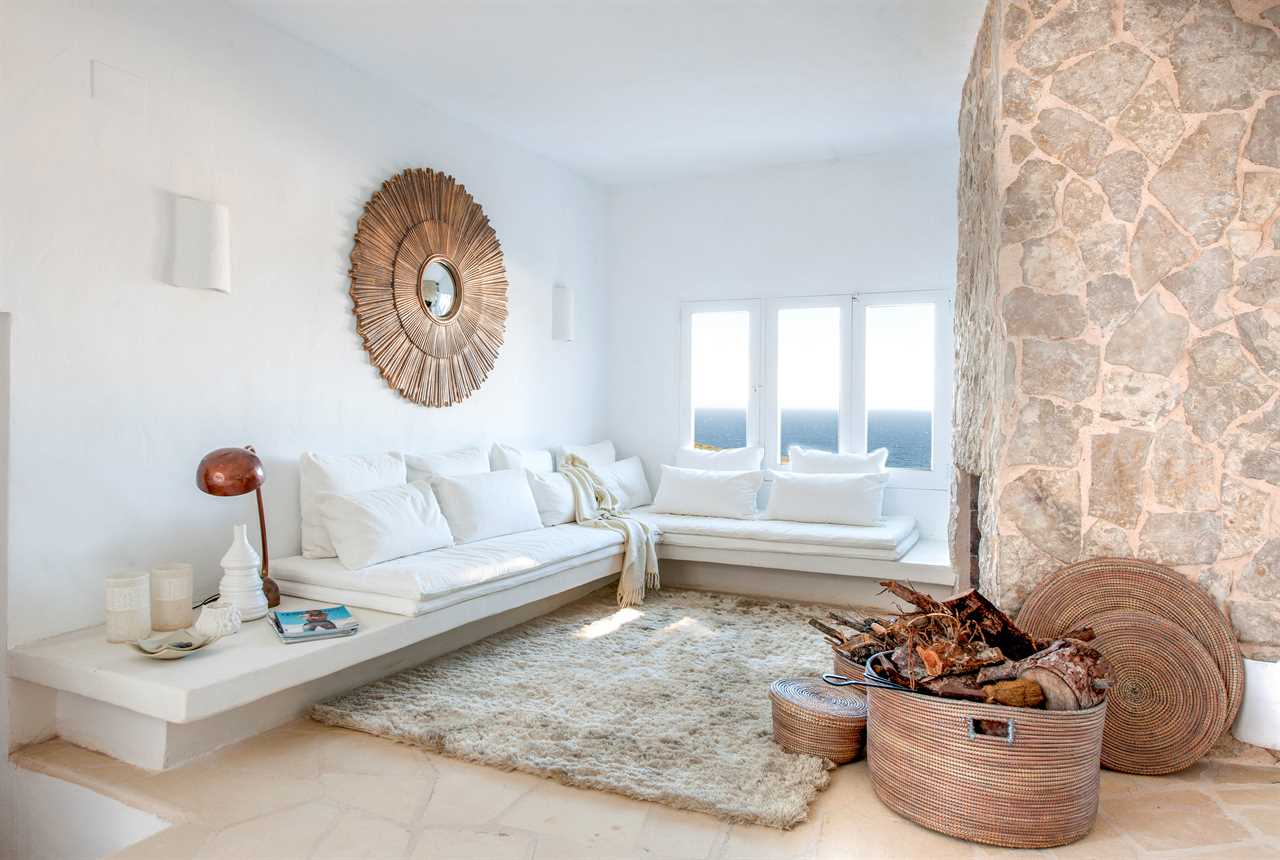 7. Villa Patagua, Cala Vadella
All white, with light-filled spaces, exposed stone walls and pops of turquoise in the tasteful ceramics dotted around, this villa makes a stylish base on the west coast. You can stroll down to Cala Vadella, a white-sand cove hemmed in by piney hills, for watersports and tapas on the beach, or watch the sunset from your private infinity pool. The house has four bedrooms and four bathrooms, as well as outdoor lounging and eating space, so works perfectly for two families looking for luxury villa rental in Ibiza.
Pool Y
Family-friendly Y
Sleeps 8
Price £££
Book now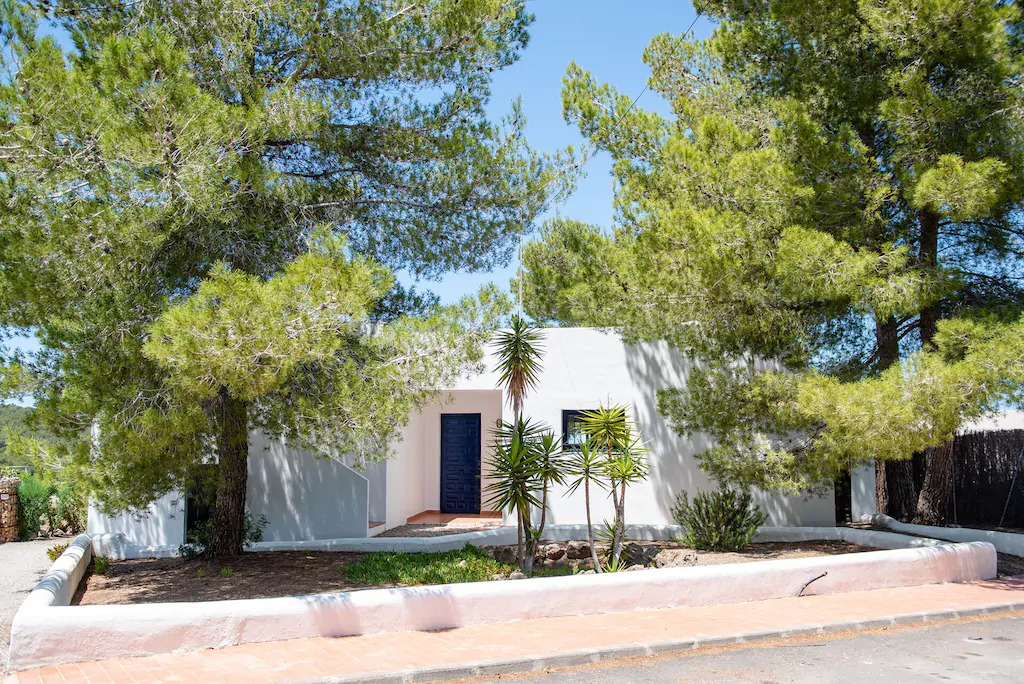 8. Casa Anna, San Miguel
Ibiza's craggy, forested northwest is far less developed than the south. Here, at Casa Anna, 1,000ft above the sea, the infinity pool juts right out into the infinite blue. You're cooled by the sea breezes up here, and the scent of pine is in the air. The villa itself has plenty of outdoor cooking and dining space, while the unpretentious interior is done out in soothing colours, the terracotta floors cool underfoot. There are mountain and clifftop walks from the door but you'll need a car to get down to Cala Benirras, framed at either side by rocks, with snorkelling in the glass-clear water. Come on a Sunday for an Ibiza ritual, when hippies bring their bongos to drum down the sunset; it's a hypnotic experience.
Pool Y
Family-friendly Y
Sleeps 8
Price £
Book now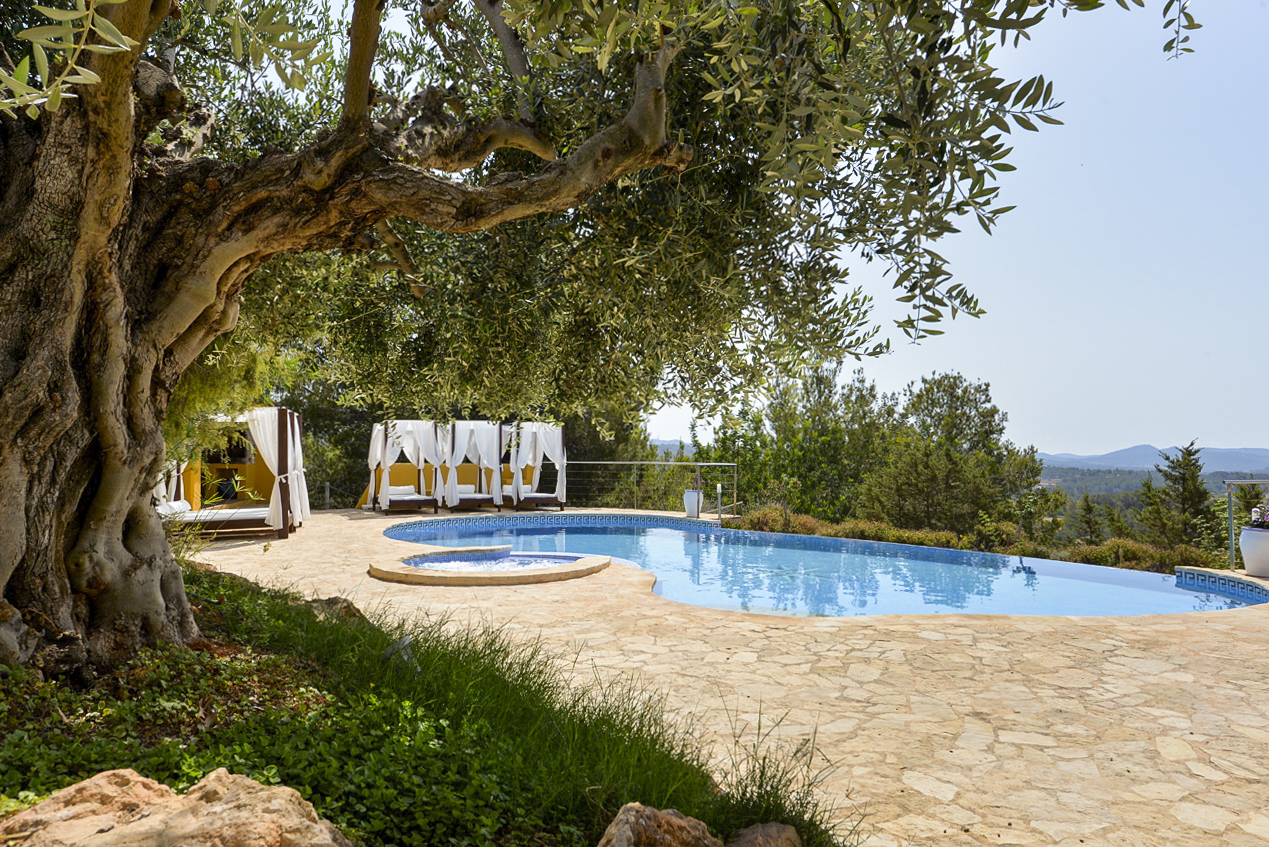 9. Bella Forada, San Mateo
This beautifully restored finca for 12 is the perfect spot for a rural house party for large groups. Inside, you'll find cool stone floors, wood-beamed ceilings, furnishings in teak, walnut and mahogany and beds draped in gauzy curtains. Balinese beds overlook an impressive 12m pool, while an outdoor kitchen includes a shaded table for 12. Sink into one of the rocking chairs on the terrace and just gaze out over miles of olive and citrus groves. You're in the middle of the island here, but only 6km from boho Santa Gertrudis, Ibiza's original hippy heart, today overflowing with bars, craft shops and tapas bars and the location of Wild Beets, one of the island's top vegetarian restaurants.
Pool Y
Family-friendly Y
Sleeps 12
Price ££
Book now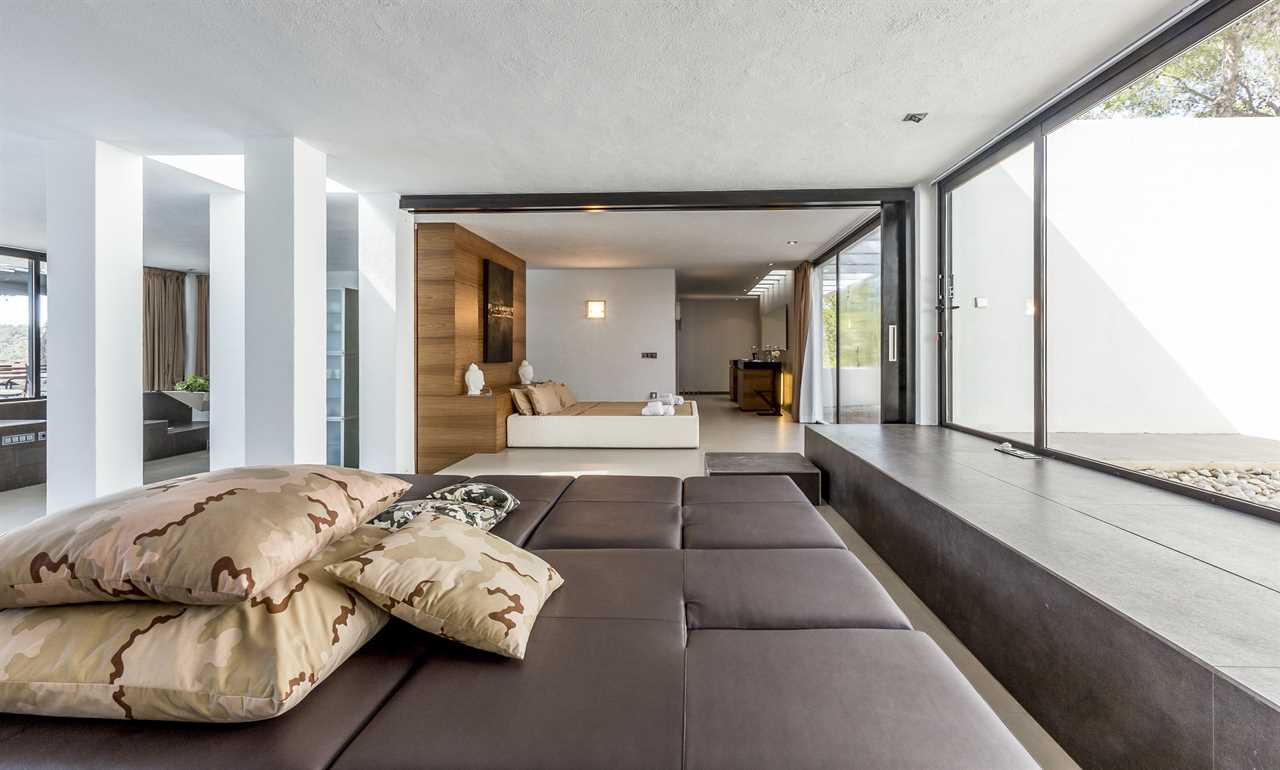 10. Villa Meridiana, Cala Vadella
There are echoes of a chic boutique hotel at this ultra-modern villa, in the curved loungers, the minimalist interiors, pebbled garden and all-white pool furniture. Buddha heads are dotted around inside and out and a Jacuzzi overlooks the tops of the pine trees towards the sea. Two of the five rooms have separate access, should anybody require extra privacy. You're nestled in the forest above Cala Vadella here, with shops and restaurants within an easy walk and the fine white sands of the cove itself just a short, 6km drive away.
Pool Y
Family-friendly Y
Sleeps 10
Price ££
Book now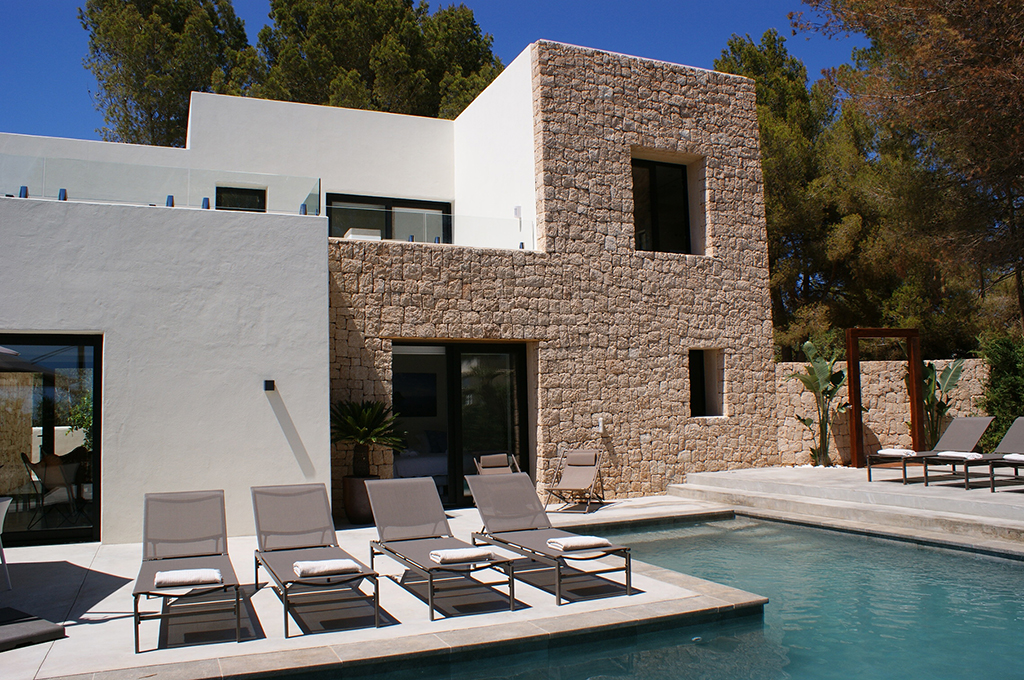 11. Villa Higueras, Santa Eulalia
You're right on the beach in this smart, modern villa; you can even rent a boat from the end of your terrace. Interiors embrace natural materials and neutral shades, with dashes of bright aquamarine complementing the views straight out into the blue sea. There's a gorgeous pool and spacious sunbathing area overlooking the water that could double up as a morning yoga platform. Meanwhile, the DJ sets, seafood platters and signature mojitos of hipster Nikki Beach are only a few minutes' stroll away.
Pool Y
Family-friendly N
Sleeps 8
Price ££
Book now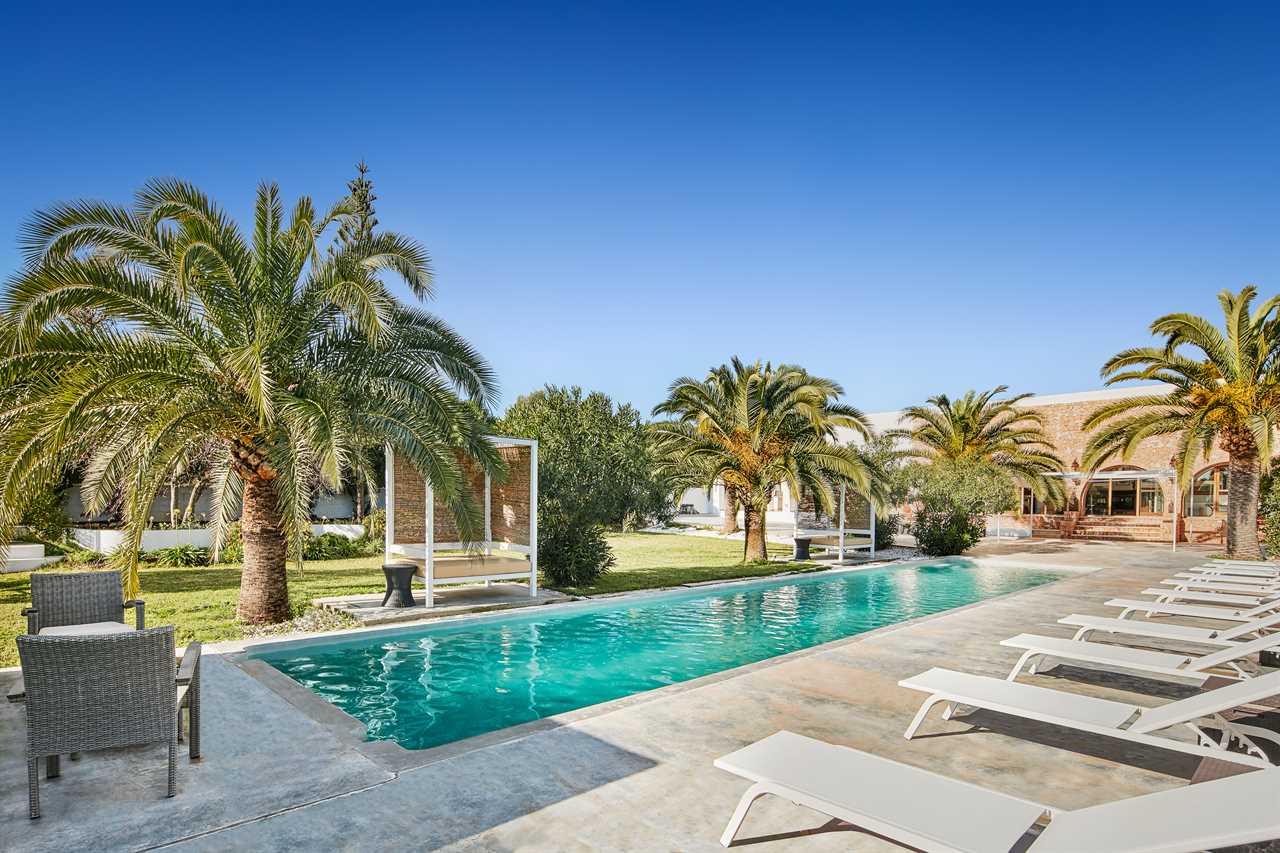 12. Villa Puig, Puig den Valls
This lavishly beautiful villa is the perfect combination of location — just 6km from the bars and clubs of Ibiza Town and an easy journey to the non-stop action of Playa d'en Bossa – and rural tranquillity for sleeping off any excesses. Speaking of which, there's a 20m pool, one of the largest of any holiday villa on the island. The interiors are dazzling, with high, wood-beamed ceilings, marble floors, exposed stone feature walls and contemporary touches. For afternoons and nights in, there's a fully equipped outdoor cooking area, with panoramic views across the countryside to Dalt Vila, perched on the hilltop, its ramparts floodlit after dark.
Pool Y
Family-friendly Y
Sleeps 12
Price £££
Book now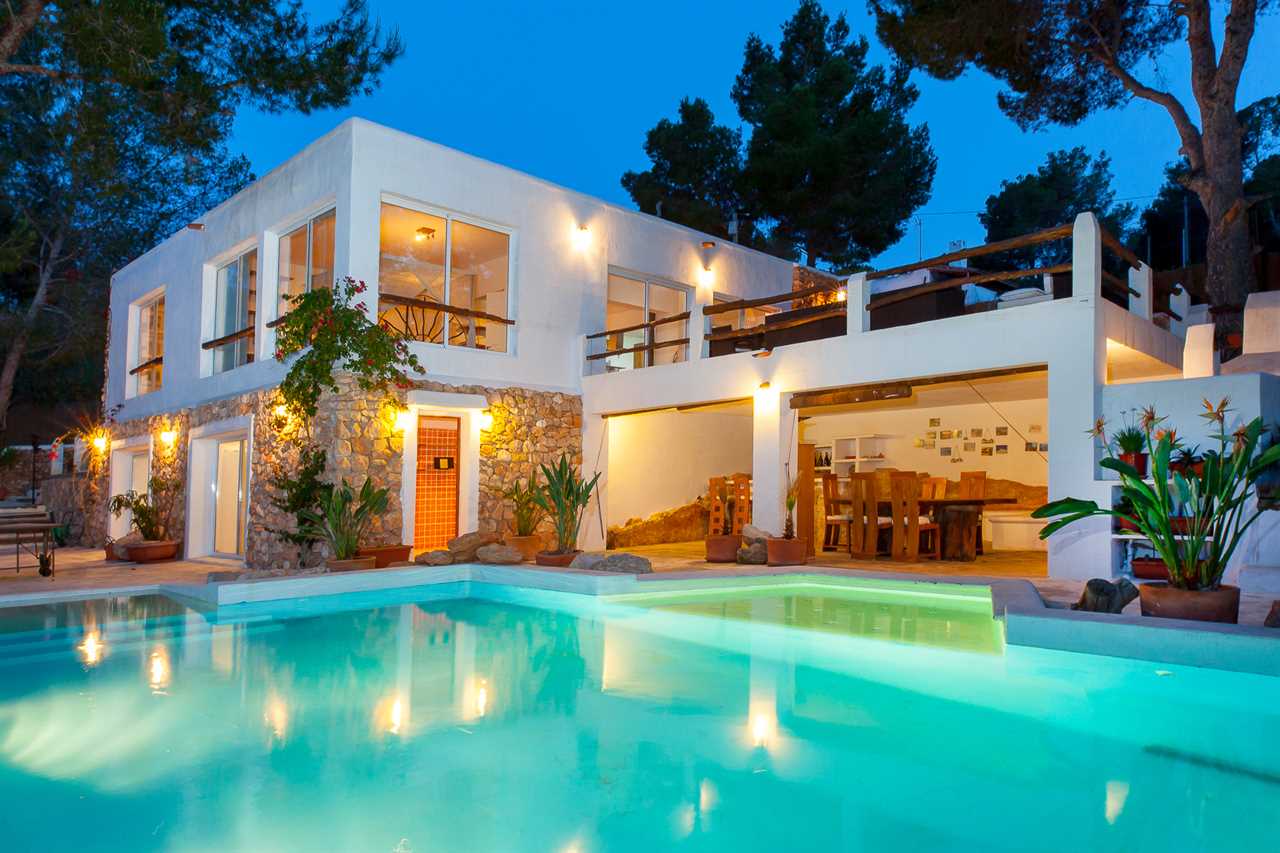 13. Haveli House, Cala Vadella
Perfect for low-key, indoor-outdoor family living, this pretty, stone-built holiday villa is set in the pine woods above Cala Vadella, with a large barbecue area by the pool and, one level up, a big wooden deck with rattan furniture and views down towards the coast. Bright splashes of colour bring warmth to the interiors, with floor-to-ceiling glass allowing light to flood in. You're less than five minutes' drive from the beach and the buzzing little town of San Josep, too.
Pool Y
Family-friendly Y
Sleeps 6
Price £
Book now
14. Villa Papiro, Puig Manyá
The charms of Ibiza Town are just across the bay from the rocky peninsula of Puig Manyá, with views over to the hilltop Dalt Vila and the hazy outline of Formentera beyond. This sleek, ultra-modern villa, all cream and white inside, is built into the rock, with gorgeous views from every room, including the corner Jacuzzi in the master bedroom. Floor-to-ceiling windows, double-height ceilings, smooth curves and exposed rock add to the cool, minimalist vibe, while a tiled infinity pool curves around the house, facing straight out to sea. Ibiza Town and Talamanca beach are just five minutes' drive away.
Pool Y
Family-friendly Y
Sleeps 8
Price ££
Book now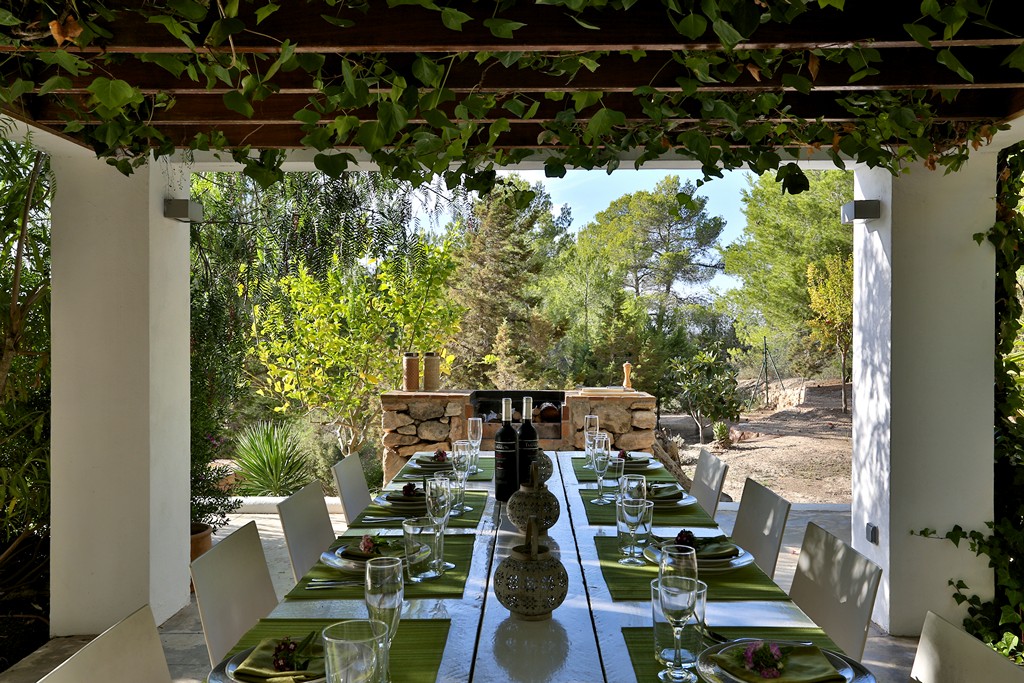 15. Las Palomas, Sant Josep
A short hop from Cala Tarida, Cala Moli and Cala Vadella — so there's no shortage of beaches here — this smart, whitewashed villa is surrounded by pine and eucalyptus forest. Assorted sunbathing terraces overlook the inviting turquoise pool, while there's a gorgeous outdoor barbecue and dining area under the shade of a leafy trellis. The interiors, all tastefully minimalist, offer oodles of space and privacy, making this an ideal villa rental for two families.
Pool Y
Family-friendly Y
Sleeps 8
Price ££
Book now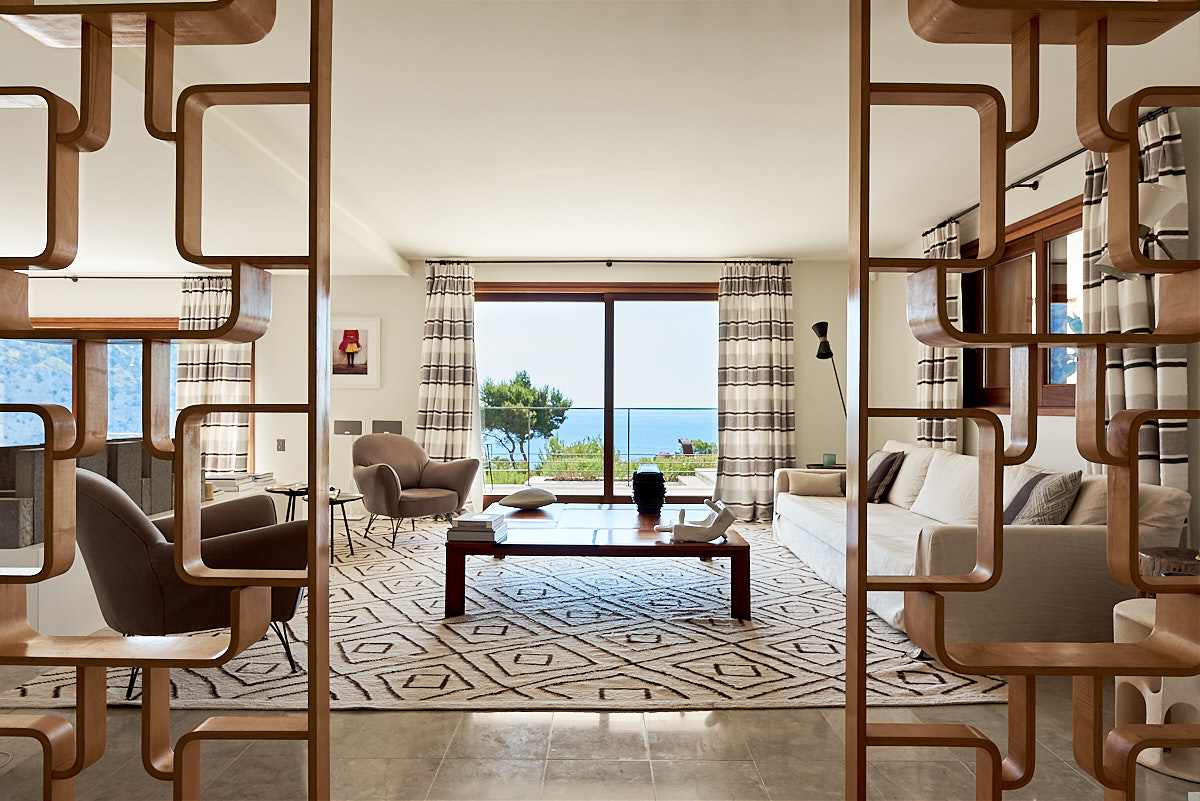 16. Casa Sofia, Santa Eulalia
Sunbathing terraces in white stucco and natural stone cascade over the hillside from this smart villa. The deep-blue waters of Sol d'en Serra bay are just below. Inside, you'll find light-flooded, open-plan living with a high level of design and a strong retro influence. You can stroll down the hill to the smart Amante beach club, with an attentive level of service in its waterfront dining, yoga classes and movies under the stars, while the busier resort of Cala Llonga is a couple of minutes' drive away.
Pool Y
Family-friendly Y
Sleeps 10
Price £££
Book now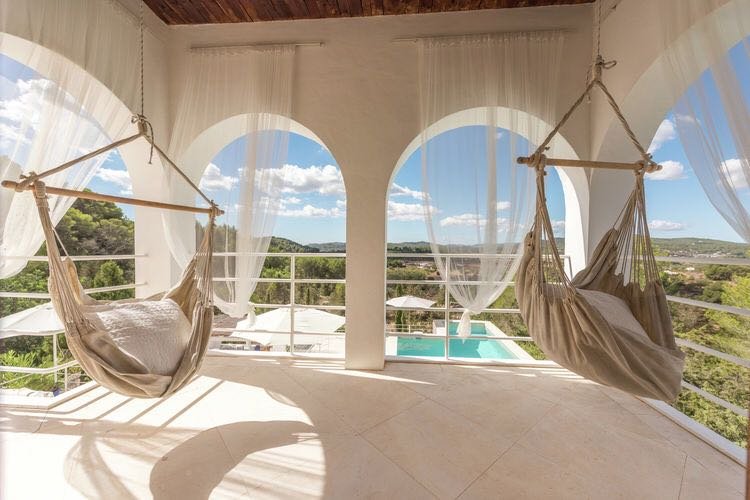 17. Villa Novells, Santa Eulalia
Santa Eulalia, on the island's east coast, is the more chilled side of Ibiza, its sandy beaches popular with families. This contemporary hilltop villa is just 4km from the town centre, set on a hill and surrounded by trees, with sweeping views across the countryside. The cream interiors are offset by colourful contemporary paintings and bright objets d'art, while sunbathing and outdoor dining terraces surround the inviting pool. The master bedroom is the one to go for, with two hammocks swaying in the breeze on its private terrace.
Pool Y
Family-friendly Y
Sleeps 8
Price ££
Book now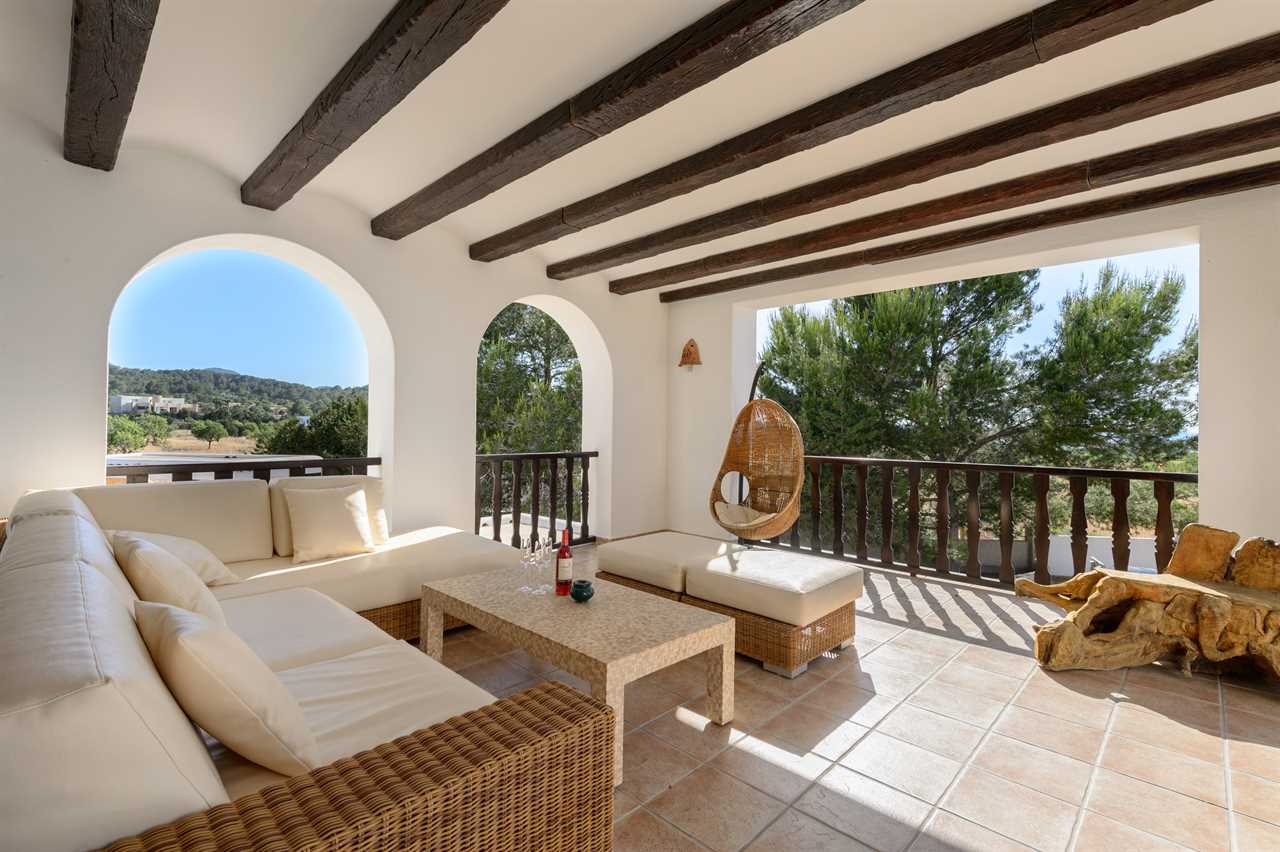 18. Villa Almond, Sant Antoni
Villa Almond gazes west across the countryside towards the wide sweep of San Antonio bay, Ibiza's most famed sunset spot. If you're feeling super-chilled, you'll be able to watch the sun sink into the distant sea from your infinity pool or from the sapphire-tiled Jacuzzi next to it. Inside, the villa is simple but stylish, with exposed stone walls, wooden beams, lots of white and grey with splashes of burnt orange adding warmth. San Antonio and the Sunset Strip, where you'll find island legends such as Café del Mar and Café Mambo, are walkable from here.
Pool Y
Family-friendly Y
Sleeps 8
Price ££
Book now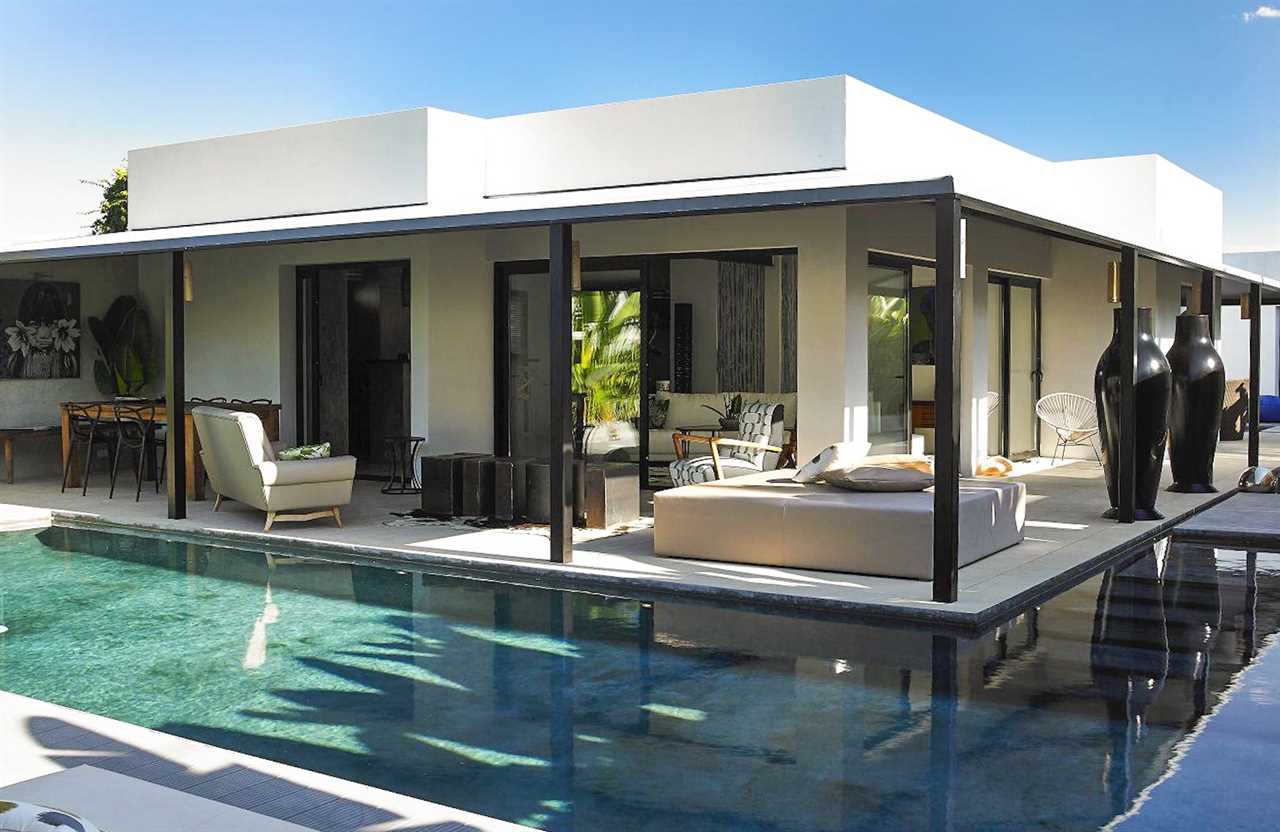 19. Casa Saturnina, Sant Antoni
This two-bedroomed designer hideaway near Port d'es Torrent offers the last word in laid-back chic. It's done out with contemporary art and sculpture, and the wraparound terrace is fringed by banana palms. A king-sized day bed overlooks the L-shaped pool, while there's an inviting whirlpool set into wooden decking. One of the enormous bedrooms has private access, so the villa is perfect for two couples who want a bit of privacy. Or just have it to yourself, venturing out every now and then; the nearest sandy cove is only 15 minutes' stroll away.
Pool Y
Family-friendly N
Sleeps 4
Price £££
Book now
20. Villa Ca'n Llusia, San Antonio
Just 15 minutes' walk from the beach at S'Estanyol, south of San Antonio's buzzing bay, this contemporary villa is surrounded by palms and pine trees. Warm wooden decking frames the pool, while there's a long, covered terrace for alfresco dining or snoozing on a lounger after lunch. Inside, double-height ceilings provide a sense of light and space, while stone feature walls and a curving marble staircase add architectural interest. Hire a car to explore the turquoise coves further west; Cala Bassa and Cala Conta are two of the prettiest.
Pool Y
Family-friendly Y
Sleeps 9
Price ££
Book now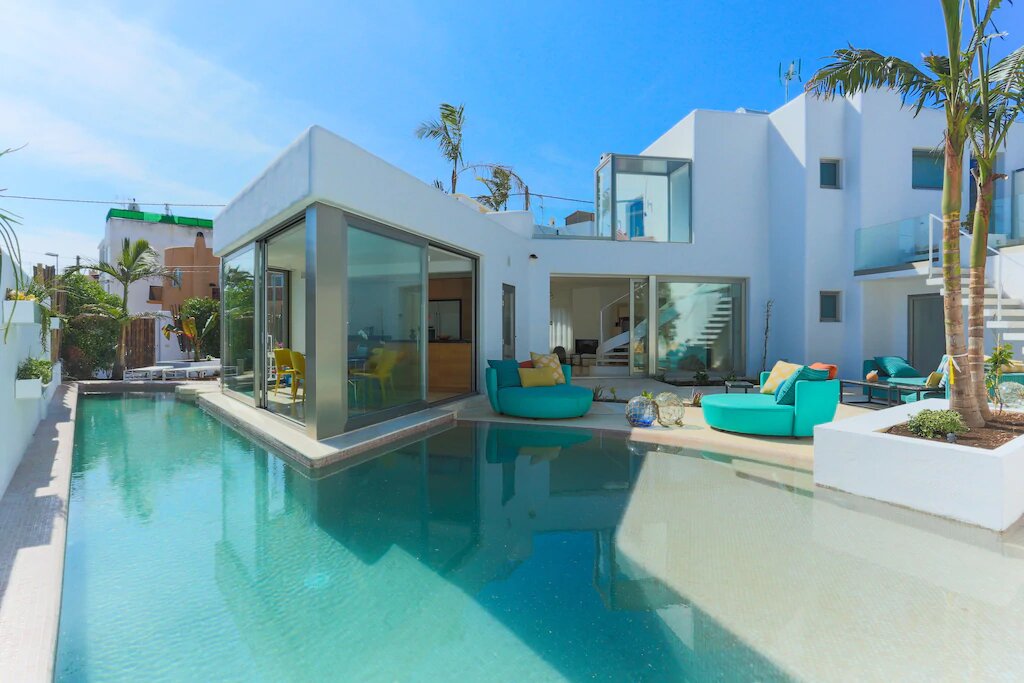 21. Can Stella, Playa d'en Bossa
There's a hint of Love Island in this contemporary, jauntily decorated villa — peach, pink and vibrant turquoise sofas are dotted around its leafy walled garden and whitewashed roof terrace, complete with mood lighting. There's nothing shy and retiring about Playa d'en Bossa, either; you're right on the doorstep of mega-clubs such as Ushuaia and Hï Ibiza, or, if you're travelling as a family, water toys galore and long, golden sands. A pool wraps around the glass-walled dining area for chilling out and recharging the batteries.

Pool Y
Family-friendly Y
Sleeps 8
Price ££
Book now


Did you miss our previous article...
https://yogameditationdaily.com/meditation-retreats/finding-the-minds-nine-bodies-utne