"],"renderIntial":true,"wordCount":350}">
You don't have to journey to an exotic ashram in India a la Eat, Pray, Love for an exclusive, life-changing meditation retreat. Whether you're traveling solo, want to reconnect as a couple, or take an unforgettable trip with friends, some incredible resorts and getaways in the States are geared to help you decompress, reenergize, and connect with yourself and the natural world.
Shambhala Mountain Center
(Karen O'Hern)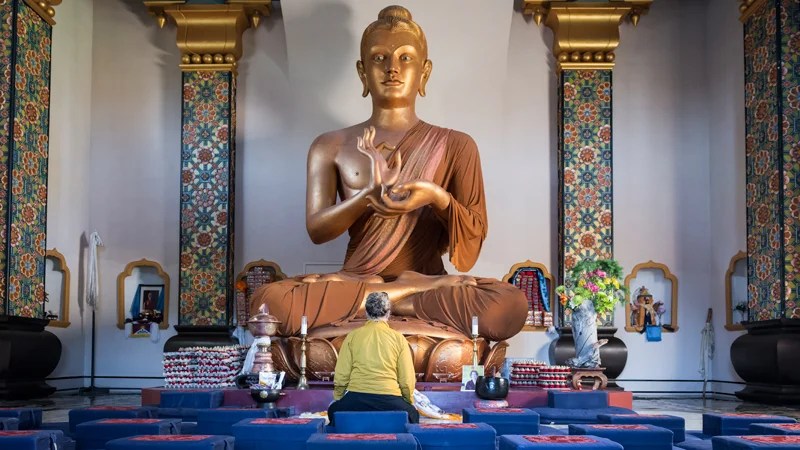 (Karen O'Hern)
Red Feather Lakes, Colorado
How to disconnect to reconnect: The Shambhala philosophy teaches the wakefulness of human goodness and being, and at the 600-acre Rocky Mountain retreat you're sure to find your own meditative style among the diverse offerings of mindful practices and expansive landscape. Plus, cellphones don't work here. Guests can create a personal retreat package or register for the many programs that range from "Running with the Mind of Meditation," based on the best-selling book by Sakyong Mipham, to nature-based programs with an interdisciplinary focus on astronomy or botany. Stay for a weekend, a week, or a monthlong journey of self-exploration that focuses on body awareness, mindful living, contemplative arts, or personal transformation. Lodging varies from tent platforms that get you close to nature to lodge suites with modern amenities. There is vegetarian and vegan cuisine, as well as meals for carnivores, ranging from Italian to Indian.
Get outside: Eight miles of trails await for hiking, running, or snowshoeing, which transcend into the practice of active or moving meditation. Visitors also have access to the Great Stupa of Dharmakaya, a Buddhist monument that stands 108 feet tall and is open to the public on the first level.
Take me there: Lodging rates include three healthful meals a day and start at $109 per night per person. Programs charge additional tuition fees.
Book Now
Travaasa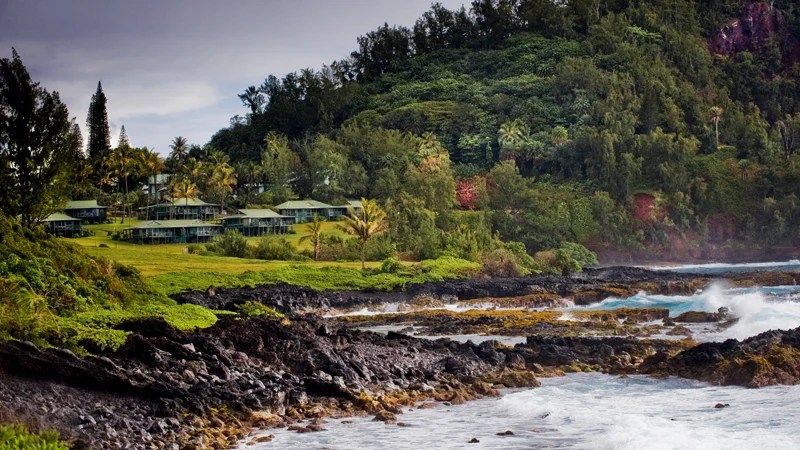 (Tina Thuell)
Hana, Maui, and Austin, Texas
How to disconnect to reconnect: True luxury and tropical paradise meet in this experiential Hawaiian destination that features an enchanted itinerary of guided meditations, nurturing yoga, luxury spa services and accommodations, eclectic and nourishing gourmet meals, and endless adventure. There are no dedicated retreat dates, so book a stay when it works for you and do exactly what your heart desires. The Austin resort is equally indulgent and only 20 minutes from the city. Surrounded by the Balcones Canyonlands Preserve, the property includes a 3.5-acre organic farm with gardens, chickens, and horses. Executive chef Benjamin Baker and his staff specialize in farm-to-table cuisine with local, organic ingredients.
Get outside: Jump on a paddleboard or canoe, or try one of Hana's unique adventures, such as a soaring the skies over Maui for a 30- or 60-minute glider plane ride; enjoying an equine encounter that focuses on nonverbal communication, self-awareness, and intention; or learning the Hawaiian tradition of throw-net fishing, passed down through generations. In Austin, mountain bike or take advantage of challenge courses between guided meditations, tai chi, and nature hikes.
Take me there: All-inclusive packages for lodging, meals, and spa/activities credit start at $600 per night per person in Hana and $475 per night per person in Austin. Extra charges for some adventure experiences apply.
Book Now
The Standard Spa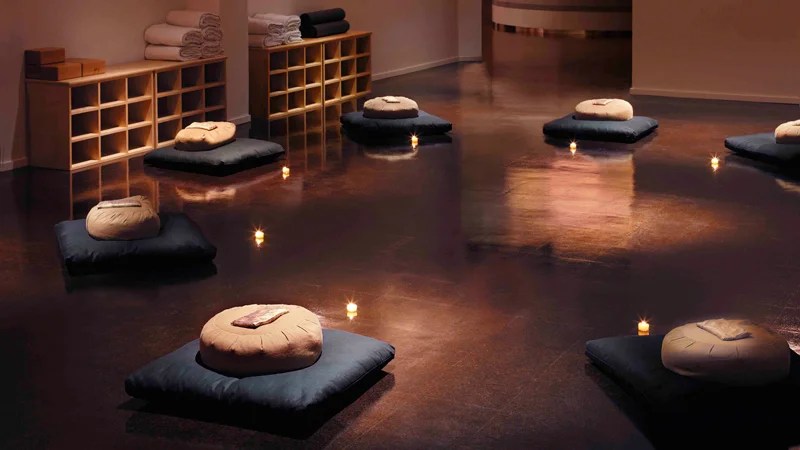 (Nathan Sayers)
Miami Beach, Florida
How to disconnect to reconnect: Soak in the Florida sunshine and positive vibes at this spa hotel that offers a spectacular lineup of meditation experiences and workshops, including garden fire-pit meditations, crystal sonic-sound bath meditations, healing through chakras, breathwork, and kundalini and yoga workshops. Inspired by a holistic approach to wellness that incorporates fitness, nutrition, and bodywork, the Standard offers a hydrotherapy playground featuring an arctic plunge pool, mud lounge, Scotch hoses, infinity pool, and hamam, plus services such as acupuncture and life coaching. On the menu, you'll find fresh, raw, organic, and spa-inspired Mediterranean cuisine (even a hamburger and tater tots) as well as a selection of juices and smoothies. If completely immersing yourself in life's most sumptuous treatments is your goal, the Standard has you covered—in algae-infused detoxifying mud.
Get outside: This is Miami Beach, so all the water has to offer is at your disposal, including swimming and stand-up paddleboarding. Guests can also enjoy daily sunrise yoga, martial arts instruction, and rides on rented Warby Parker bicycles.
Take me there: A range of rooms and packages are available at the Standard Spa. For a retreat and workshop schedule and to find specials on select packages.
Book Now
Rolling Meadows Retreat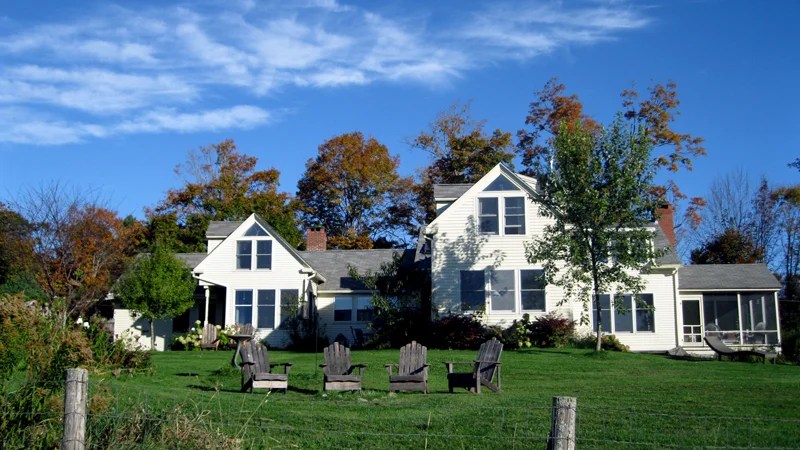 (Rolling Meadows Retreat)
Brooks, Maine
How to disconnect to reconnect: Take unplugging to a deeper level at an intimate silent meditation and yoga retreat that hosts up to 11 people on Maine's northeastern coast. There's no small talk to navigate or distractions to dodge with the retreat's social silence policy—it's just you slowing down. Designed to increase awareness and simplify life, a daily schedule of multiple meditation sessions, yoga, and free time lead guests through a contemplative process that heals and connects. Talking is encouraged during guided sessions, which offer opportunities to ask questions and discuss ways to integrate experiences into daily life. Fresh vegetarian meals are prepared three times a day from teacher and co-director Patricia Brown's cookbook and feature Indian-inspired recipes and organic vegetables from the garden.
Get outside: Hike the trails on the property's 100 acres or take a swim in the spring-fed pond. The unstructured time between sessions, when guests are eating, resting, or walking, can be the most awakening, says Surya Chandra Das, teacher and co-director. Take, for instance, the story of a guest who tackled her first hike on a challenging trail in about 45 minutes; by the end of the retreat, that same hike took four hours.
Take me there: To register or find a list of upcoming themed retreats, which range from two to six nights and start at $595 per person.
Book Now
Miraval Resort and Spa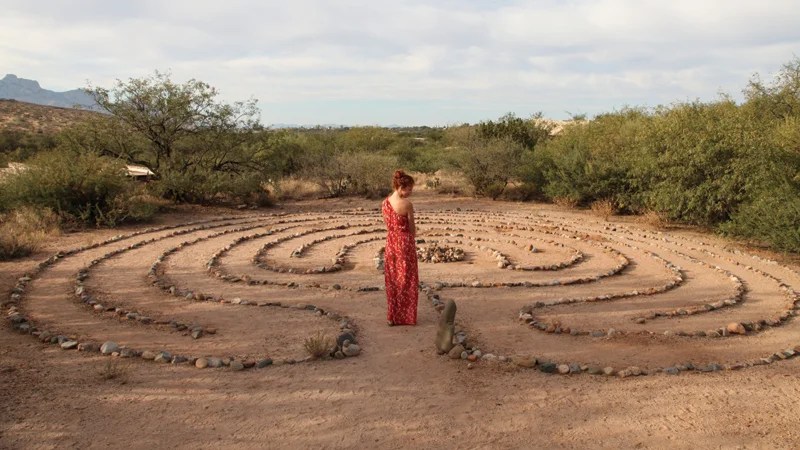 (Brett Winter Lemon)
Tucson, Arizona
How to disconnect to reconnect: There's something innately spiritual about the desert, and Miraval provides a healing oasis for the mind, body, and soul. Meditation offerings range from beginner to advanced and include such experiences as floating meditation, mindful stress mastery, forgiveness meditation, and a labyrinth. Guests have access to enriching and diverse programming that focuses on art and photography, integrative wellness, culinary exploration, equine experiences, and, of course, meditation and healthy living. Outdoor treatment rooms and a full spa and bodywork menu rejuvenate and pamper guests with Ayurvedic, reiki, and Thai massage therapies. Mindfulness, self-discovery, and living in the moment are at the core of this luxury wellness spa, which also extends into the kitchen. Healthful, seasonal, and locally sourced ingredients are featured on a changing menu with vegetarian and vegan options.
Get outside: Whether you want to stay active or jump-start your goals, there are no shortage of activities to keep you moving. Outback hikes, mountain biking, yoga hiking, trail running, challenge courses, and an all-day rock climbing excursion on Mt. Lemmon are all at your fingertips.
Take me there: A variety of packages are available starting at $429 per night per person. For a complete list of retreats, programs, spa services, and accommodations.
Book Now
Stillpoint Lodge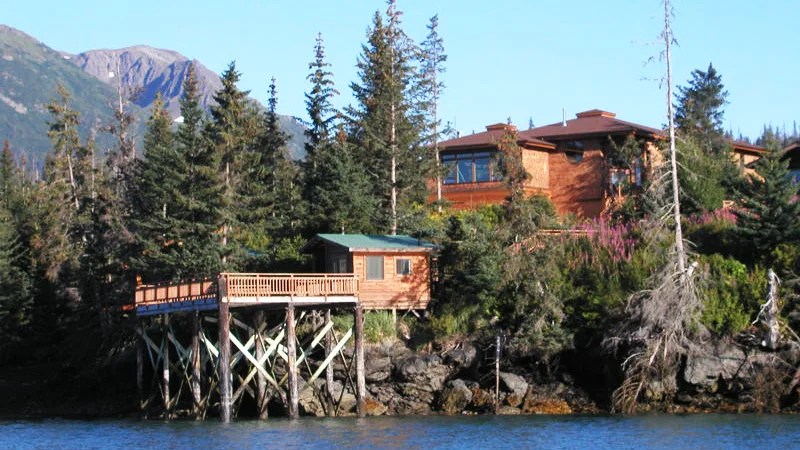 (Courtesy Stillpoint Lodge)
Halibut Cove, Alaska
How to disconnect to reconnect: Discover the softer side of Alaska in a secluded lodge that features a poustinia, a silent meditation space open 24 hours a day. Stillpoint Lodge welcomes guests for scheduled group retreats and offers a cabin for private stays where guests can set their own schedule. Guided meditations, yoga, and a labyrinth for walking meditations contribute to the calm, environmentally conscious campus surrounded by majestic wilderness where guests can connect with the spectacle of nature. An organic garden and freshly caught halibut, salmon, oysters, and mussels enhance the pescetarian menu that features artful cuisine.
Get outside: Halibut Cove is located on the edge of Kachemak Bay State Park, Alaska's only wilderness park. A popular activity is hiking into the park to enjoy a prepared lunch and then set out on inflatable kayaks to explore the glacier lake's icebergs. Every detail of your day's adventure is taken care of by Stillpoint's small and personable staff. Back on Stillpoint's property, nature trails are easily accessible for hiking and picking berries in the months of August and September.
Take me there: Lodging, meals, yoga, meditation, and various other amenities and activities, including the boat ride to get to Halibut Cove, start at $500 per night per person. Services and experiences, such as spiritual direction, private yoga, or massage, are additional.
Book Now
Canyon Ranch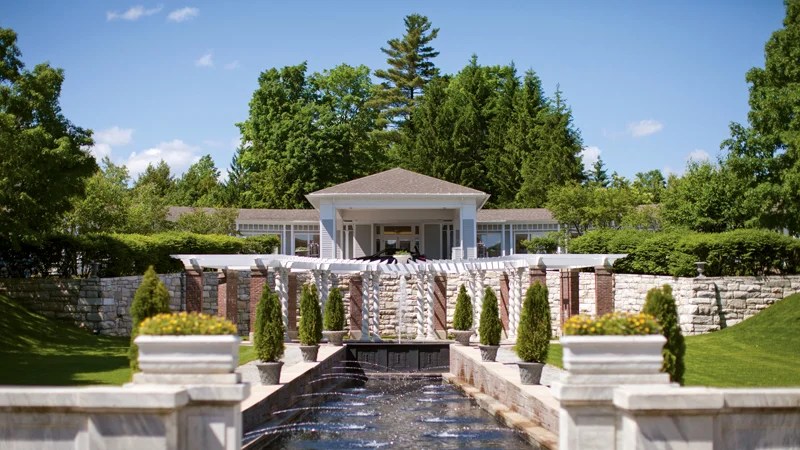 (Canyon Ranch)
Lenox, Massachusetts
How to disconnect to reconnect: Step into luxurious elegance fit for royalty at this grand estate located in the Berkshire Hills. Beyond the typical experience, Canyon Ranch defines spa as a Special Personalized Adventure. Add transformative programs designed to boost well-being and health to your all-inclusive package and move effortlessly from visualization mediation, spiritual guidance, yoga, the on-site labyrinth, touch therapies, and full-service spa treatments. Create a getaway that fits your style, or step out of your comfort zone with programming options like tarot card reading, astrology, portrait drawing, mandala making, cooking classes, or a Rite of Passage ceremony. Chef-created meals, including vegetarian options, are mindful and focus on health and nutrition and fresh, seasonal ingredients.
Get outside: This is New England, so guests can enjoy the outdoors year round. Hiking, biking, kayaking, canoeing, skiing, and snowshoeing will connect you with nature, or challenge yourself on the ropes course's zipline and giant swing.
Take me there: All-inclusive packages offer accommodations, meals, and a variety of activities and classes. For a comprehensive list of rates ranging from two to 10 nights and to find out more about Canyon Ranch's Lenox property or other properties, including Tucson, Las Vegas, and Miami.
Book Now
The Raj Ayurveda Health Spa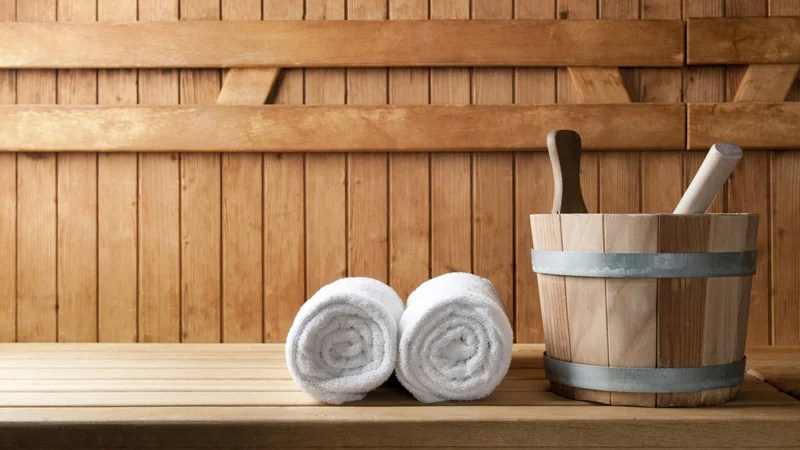 Sauna (Ridofranz/Thinkstock)
Fairfield, Iowa
How to disconnect to reconnect: Ayurveda translates to "knowledge of life" and is an ancient Indian preventive health practice that incorporates meditation, nutrition, yoga, massage, and herbs to bring the body and mind into balance and a state of healing. Located on 100 acres of countryside in Fairfield, Iowa—also home to Maharishi University—the Raj is part of the offical town of Vedic City, where the Transcendental Meditation (TM) program is taught and practiced. Guests have the option of visiting the health spa for a complete Ayurvedic treatment that includes wellness sessions, daily two- to three-hour cleansing spa treatments, yoga classes, lectures, organic vegetarian meals, and meditation. There is also a four-day Transcendental Meditation retreat to learn the practice and enjoy the various benefits of the Raj, including gem light therapy, anti-stress massage, and aromatherapy.
Get outside: Strenuous physical activity is discouraged while going through the full Ayurvedic treatment program, but guests can stroll the walking trails around the tranquil property day or night. Gentle yoga is also offered daily.
Take me there: Packages range from three to 21 days or longer and start at $2,200 per person. Additional services, treatments, and programs are available at extra cost.
Book Now
The Esalen Institute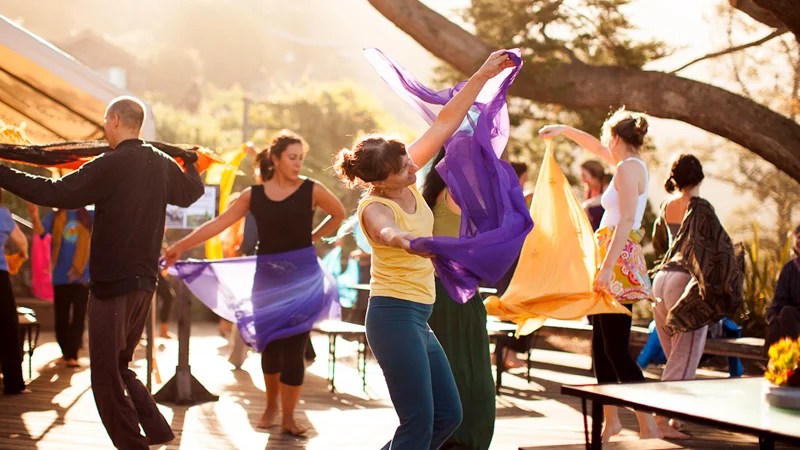 (Esalen Big Sur)
Big Sur, California
How to disconnect to reconnect: Free your inhibitions while you raise your self-awareness and explore human possibilities in the awe-inspiring setting of Northern California's spiritual coast. Various meditation practices are offered here, from Buddhist to tantric, depending on the workshop and instructor. A meditation roundhouse is located on the scenic 27-acre property, where guests can also enjoy cliffside hot springs (clothing optional), ocean views, healing arts, and soul-seeking meditation and mindfulness workshops that incorporate a hybrid of interdisciplinary themes, such as yoga, music, self-connection, stress-reduction, and fulfilling relationships between fathers and sons. Part of the experience at Esalen is its historic lodge that has hosted legendary guests like Henry Miller, Steve McQueen, Joan Baez, and Hunter S. Thompson. Family-style communal dining at the lodge features vegetarian and gluten-free options, organic produce from the on-site garden, and locally sourced eggs and fish.
Get outside: Although the California vibe is more Zen than adrenaline, guests can run along the Pacific Coast Highway, go on a nature hike, or enjoy the ocean by kayaking and surfing.
Take me there: Packages range from two to seven days; monthlong work-studies are also available. All-inclusive weekend workshops in a private suite start at $1,750 per person.
Book Now
Omega Institute for Holistic Studies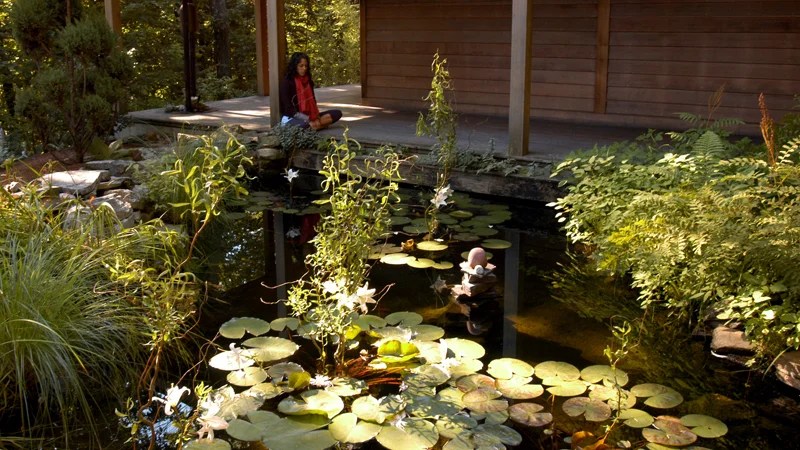 (Omega Institute for Holistic Studies)
Rhinebeck, New York
How to disconnect to reconnect: Just a train ride from New York City beckon six learning paths spanning health, healing, and sustainable living to awaken your spirit. The 200-acre Hudson Valley campus offers more than 350 workshops, yoga teacher training, and rest and rejuvenation retreats each year. Meditation, both guided and self-practice, is integrated into classes like Zen archery, moving meditations, or meditation-focused workshops that teach techniques such as Vipassana meditation. A sacred space called the Sanctuary is open for daily group meditation and contemplation hours. Omega's two- or five-day R&R retreats are perfect if you want to release and unplug without a set schedule. Yoga, shamanic healing, acupuncture, massage, henna, facials, and chakra portraits are some of the services and treatments offered in the Wellness Center. An integral emphasis on sustainability and farm-to-table is reflected in Omega's dining hall, which serves mostly vegetarian meals and is three-star certified by the Green Restaurant Association.

Get outside: Wooded trails and country roads provide the perfect setting for a walk, run, or hike. Explore the quiet 80-acre Long Pond Lake by kayak, canoe, or rowboat, and take a swim in warmer months. If you decide to adventure off campus, be sure to ask about nearby hot-air balloon rides and state parks.

Take me there: Two-night single cabin room accommodation packages, which include three meals a day, start at $662 per person. Depending on the program, workshops and specialty services have additional tuition and fees.

Book Now


Did you miss our previous article...
https://yogameditationdaily.com/meditation-retreats/travel-professionals-share-best-destinations-for-black-ladies-to-charge