The Balearics have their heavy hitters; Menorca, Mallorca and, of course, the flagship 'White Isle' of Ibiza, home to more house beats and overpriced margaritas than you can shake a glow-stick at. But this idyllic island chain is more than just parties – and the discerning crowd is turning its eye to the island chain's quieter little sister: Formentera.
How to get there
Formentera is the most southerly of the Balaerics, just under 9 miles away from Ibiza. Until recently, the only way to reach the island was by ferry from Ibiza, which is how we traveled there this summer. The journey is barely half an hour and the ferries are incredibly regular (roughly every half an hour). You can also now ferry there from various ports in mainland Spain.
Formentera
Jose A Arribas
Why go?
The difference when you disembark is palpable. If Ibiza has a buzz, Formentera has a sleepy but nonetheless all-encompassing atmosphere. When we took a (somewhat hard to find) taxi to our hotel, we noticed that the flat roads of the island are relatively car-free, with the roughly 10,000 inhabitants mostly riding bikes or mopeds to dart around. This kids you into thinking you have stepped back in time; not out of any sense of archaism or decay in the architecture or infrastructure, but merely because of the pace this insists on… the vibe.
'Vibe' is a huge if indefinable factor when it comes to the Balaerics. Formentera, much like – but more pronounced than – its more infamous relatives, has a distinctly bohemian streak. Spiritual ley lines chart across Formentera, with one connecting its famed Neolithic stone circle, Ca na Costa, to the Dalt Vila in Ibiza's fortified Old Town; a spot which has been everything from a Phoenician temple to a Catholic cathedral. Throughout the island, you can find yoga spots and meditation retreats and every hotel is determined to instil the laid-back atmosphere which characterizes Formentera. The island was once famously home to a sprawling hippy commune (its members were known as "peluts" – "hairy" in Catalan, because of their shaggy hair) and there is also still a faded air to many of the island's institutions, which remind you of its true laid-back credentials. One is the iconic hostel Fonda Pepe in Sant Ferran, which looks much like it must have done in the 1960s.
Sant Francesc Church
Courtesy
what to do

Formentera is brimming with gorgeous small towns and villages that are full of character and charm. The small town of San Francesc, which acts very much like the capital of the island, has an art and crafts market beside the main church and this is even surpassed by La Mola Craft Market, staged every Wednesday and Saturday just outside the village of El Pilar de la Mola. Stalls overspill with ceramics, jewelery and more – all made by local artists on the island – and there is live music in the central square and sangrias to be had on one of the many bar terraces which encircle the market. You must also visit Es Caló, a small village on the coast where you can see quaint fisherman's huts on the harbour.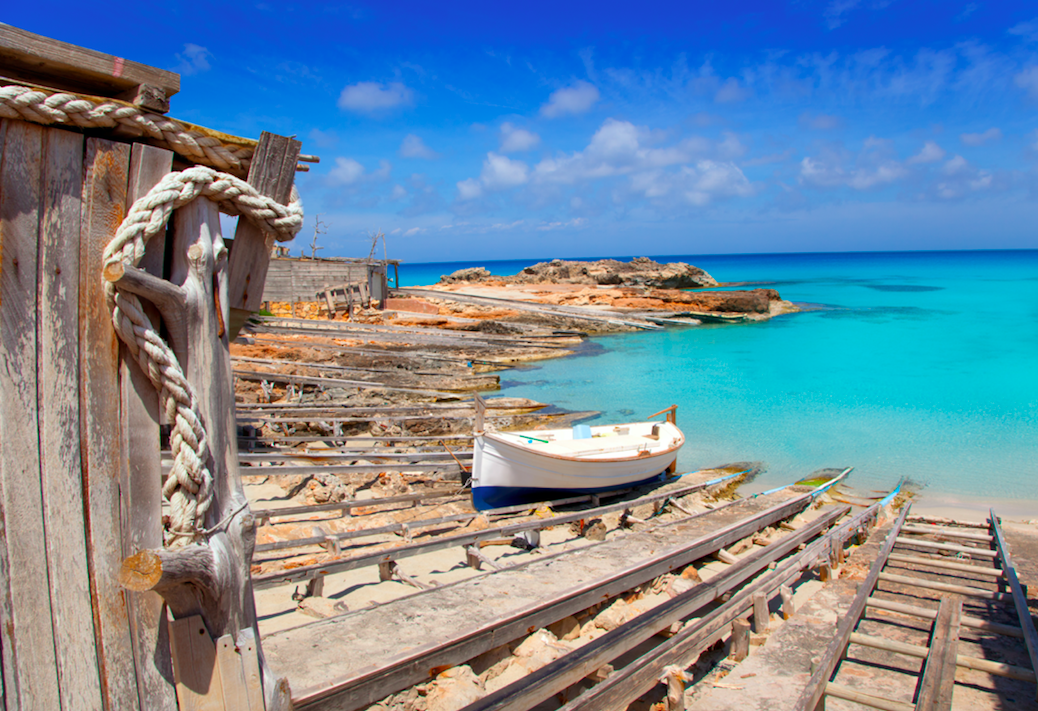 Where to stay?
Of course, Formentera has long drawn in more than just "peluts". Joni Mitchell wrote her 1971 album Blue Here, and Bob Dylan once lived in the Cap de Barbaria lighthouse. Nowadays it is a favorite among the British fashion crowd (Kate Moss, Charlotte Tilbury, Sienna Miller et al) as well as international celebrities. One day during our stay, we accidentally became bystanders to Lionel Messi's 35th birthday lunch, as he dined on the table next to us at our hotel with fellow footballers Cesc Fabregas and Luis Suarez, who had moored their mega yacht just off shore.
This content is imported from Instagram. You may be able to find the same content in another format, or you may be able to find more information, at their web site.
To match Formentera's increasingly luxe appeal, there has been major investment recently in tourism – particularly when it comes to hotels. There are plenty to choose between, from the sleek modernity of Gecko Hotel & Beach Club, which underwent a seismic and costly renovation in 2017, to the bucolic charm of the converted farmhouse hotel that is Etosoto; an inimitable artistic retreat replete with music workshops and intense yoga sessions. There is also the idyllic Can Tres; a smattering of white-washed apartment buildings nestled among orange, lemon and olive trees, just a stroll around from Migjorn beach, one of the island's longest and prettiest.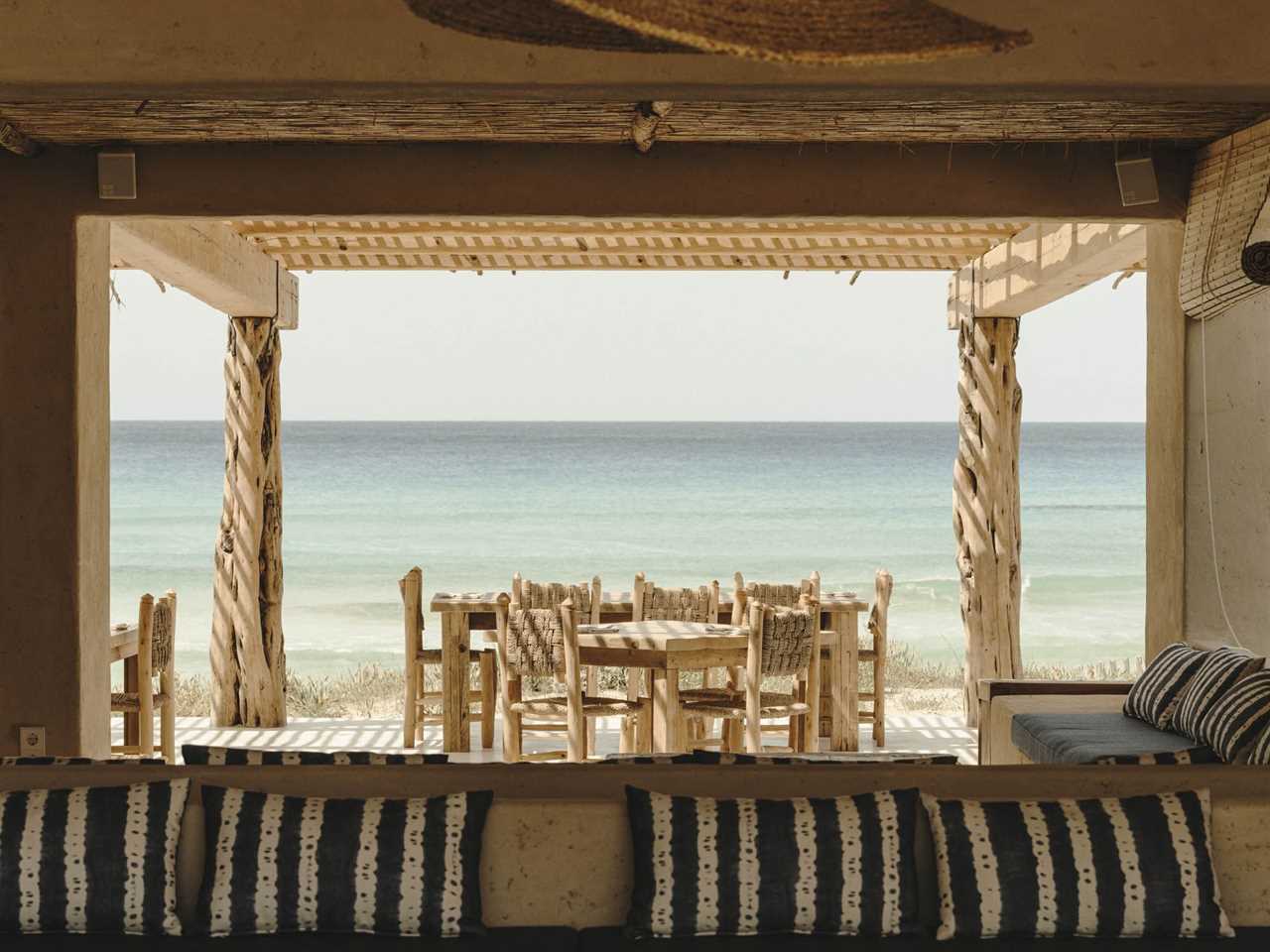 Casa Pacha Formentera
SALVA LOPEZ
We, however, opted for the freshly opened Casa Pacha Formentera, which also sits upon Migjorn beach. Much like us, stepping off the ferry, it is a recent import from Ibiza, but promises the opposite of its namesake's mega clubs and house-beat-soaked pool parties. Here, the Pacha brand loses none of its cool (the music here is subdued but still vibey) but shifts its focus on to restorative relaxation (they have a wellness package including massages and yoga) and a dominating sense of paired-back chic – the "Ibiza of 50 years ago", as they like to say.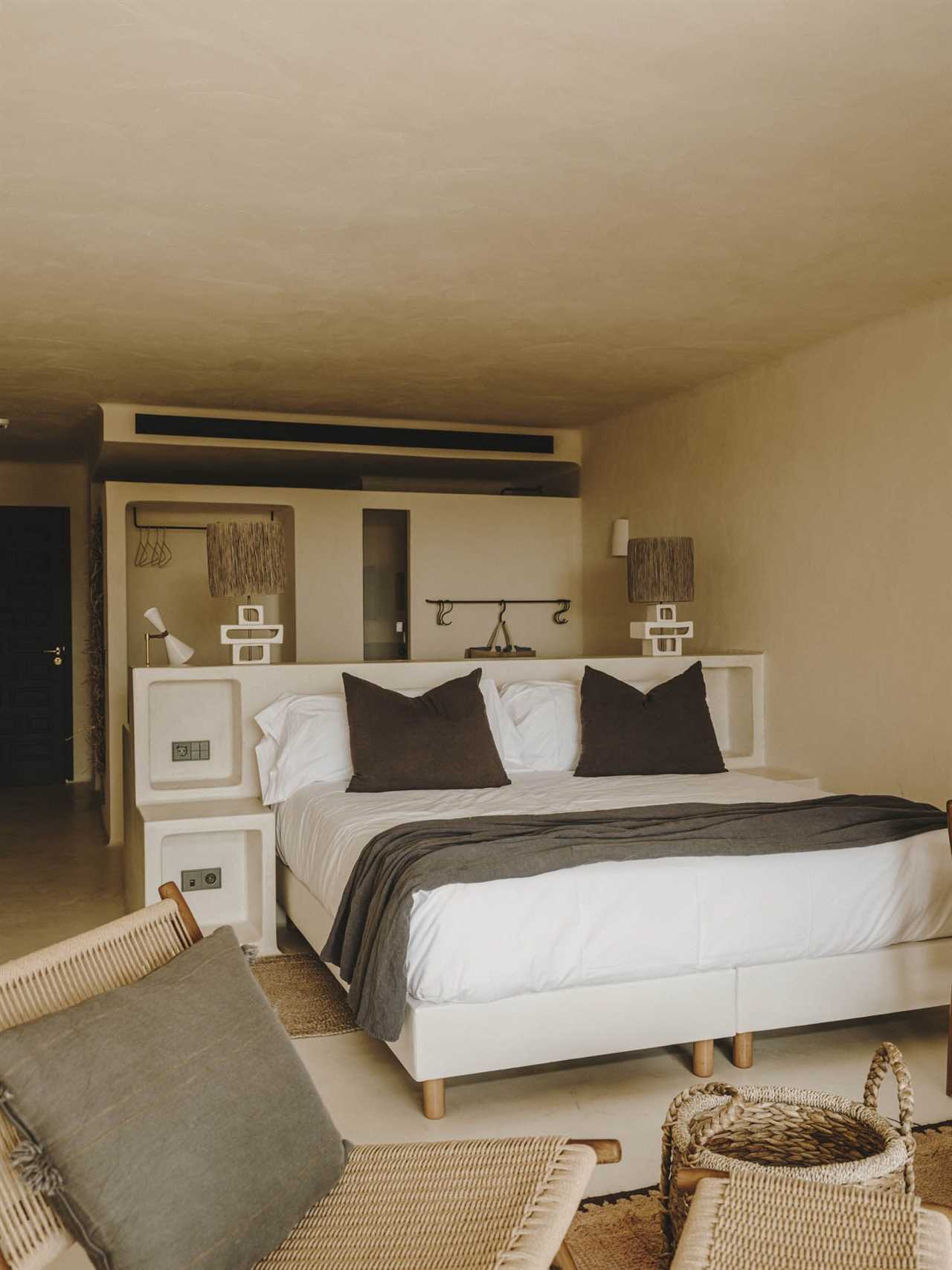 Casa Pacha Formentera
SALVA LOPEZ
The building feels as though it has organically sprouted from the sand, and this seamless architectural approach (from the esteemed Patricia Galden Studio) is continued throughout the décor. Our room – one of just 16 – was all neutral shades and luxurious tactility; smooth lines and rounded shapes in polished concrete. This continued right up until the balcony, which, when we opened our curtains on the first morning, revealed an unfettered view of turquoise waters and the sand just beneath us.
Where to eat?
Heading out to eat, we were blessed with a plethora of great dining spots. A visit would not be complete without stopping at Juan Y Andrea – a Formentera institution founded in 1971 by a local fisherman (Juan) and his wife (Andrea) and located on the famous Playa de Ses Iletes. In the interior of the island you will also find the 'secret garden' of A Mi Manera, which serves some of the best food on Formentera. On our second night, we opted for a similar vibe within the rural enclaves of the island, at the garden restaurant of Hotel Casbah; a gorgeous under-the-radar find surrounded by a pine forest.
This content is imported from Instagram. You may be able to find the same content in another format, or you may be able to find more information, at their web site.
We did, however, have many of our meals at Casa Pacha's Chiringuito – the brand's first ever beach restaurant. Here, the menu is varied and delicious, with fresh seafood, gorgeous pastas and sumptuous, locally sourced vegetables. On our first night we ate a perfectly constructed spaghetti vongole by candlelight as the sea lapped the sand and, for lunch the next day, we devoured a healthy portion of langoustines, calamari and grilled vegetables before an afternoon sunbathing on the Pacha day beds on Migjorn beach – every bit as magical as its reputation.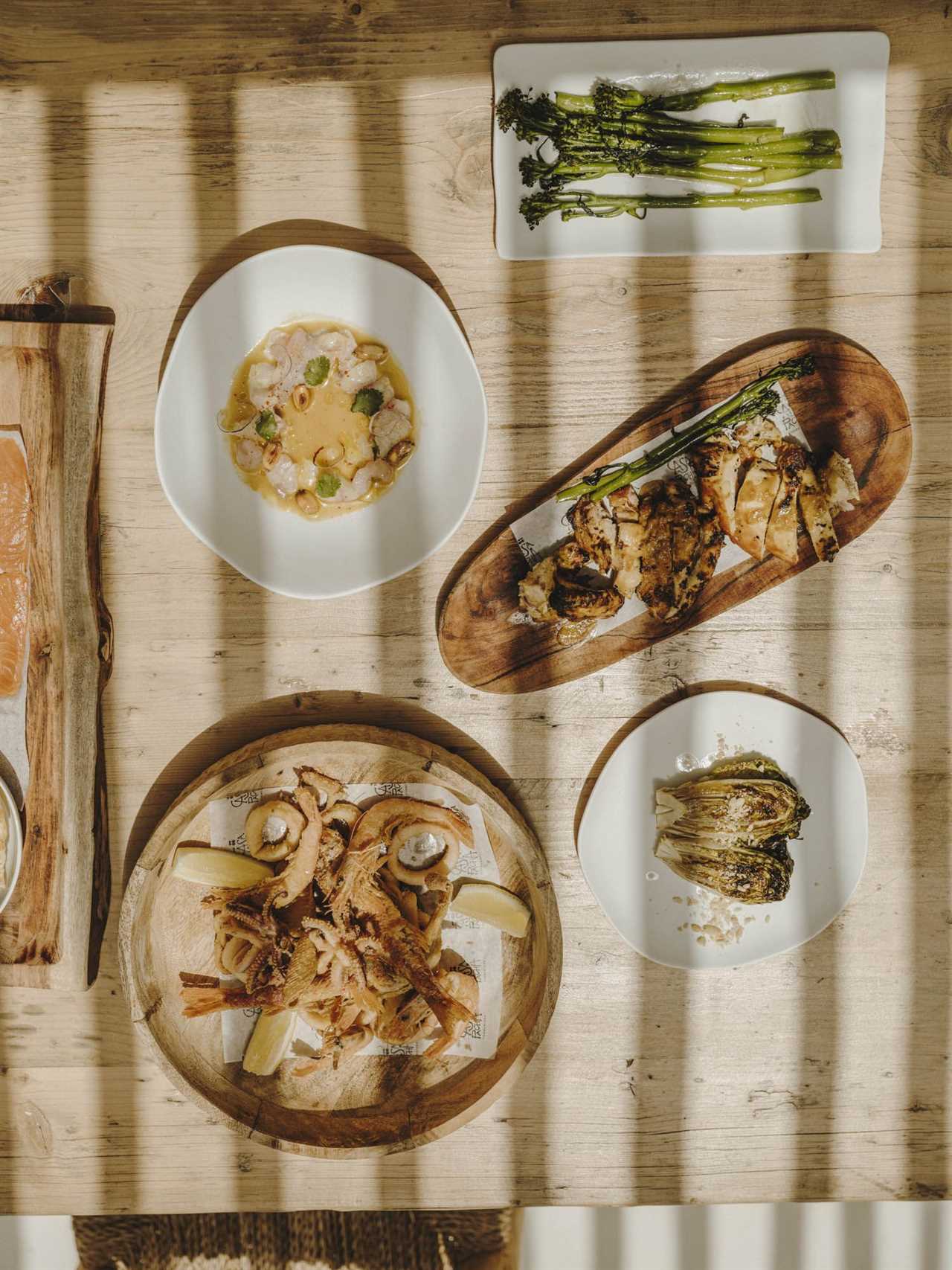 Chiringuito Casa Pacha
SALVA LOPEZ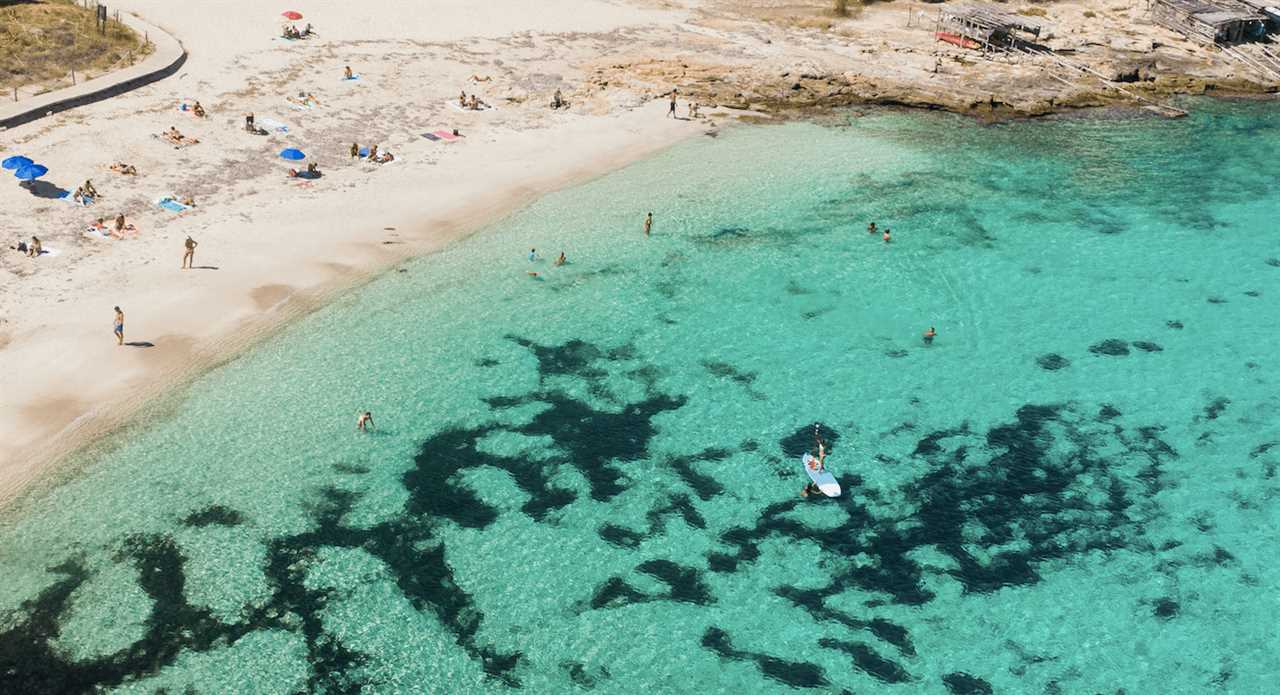 What not to miss?
Beaches are, of course, Formentera's calling card. There is an embarrassment of riches here, all sandy with azure waters, and some of the most attractive coastal views in the Medittereanean. The finest are Playa Cala Saona, Playa Es Pujols, Playa Ses Illetes, Playa de Cavall d'en Borrás – which forms part of Ses Salines Natural Park – and our very own Playa Migjorn, right on our doorstep. To fully embrace many of these, we took an island boat tour by La Isla Flotante, snorkelling in crystal clear waters and through rock caves and sailing out to the sandy spit of the privately-owned islet of S'Espalmador, which feels like the luxe lair of a Bond villain (in the best possible way).
This content is imported from Instagram. You may be able to find the same content in another format, or you may be able to find more information, at their web site.
It was here, sandy, salty and sleepy, when sailing back at that golden hour before sunset, that we really took in the quiet magic of Formentera. She is the ideal choice for anyone in need of a dose of peaceful luxury on one of the Mediterranean's most astonishing hidden gems.