Michelin-starred chef Danni Barry talks to Marie-Claire Digby about the Wicklow Escape and trying to move on with life after the sudden death of her husband, Will King
"It was the perfect day, and we had the best time. Everyone that was there was just who we wanted to be there. And it was just lovely. "
In the autumn of 2019, just weeks after that magical summer wedding on a beach in Donegal, Belfast chef Danni Barry found herself with a pink dry cleaning ticket in her hand, and a mission to track down the shop where her husband, Will King, had left his suit in to be cleaned after their big day.
There had been lots of happy, smiley photos taken on the beach, dinner cooked by a friend and former colleague and served in a big stretch tent, and lively music and dancing afterwards. The wedding suit had worked hard that day.
Barry's search was concentrated on the area between where the couple lived with their rescue dog Sarge, and James Street South restaurant, where King was the manager. The hunt for the missing clothing was heartbreaking. Barry needed to find the wedding suit to dress her husband for his funeral. William King suffered a massive stroke at the couple's home in Lyndhurst on October 9th, just over six weeks after their wedding, and died in Belfast's Royal Victoria hospital three weeks later.
Barry was at home, getting ready to go out with colleagues from Balloo House where she was executive chef, to celebrate the restaurant being awarded a Michelin Bib Gourmand, when King got home that day. "I wasn't supposed to be in the house. I was late. I'm always late. And Will came in through the door, in great form. He had just called in with his parents and his Mum had bought us this massive box of tea bags, because all the Brexit chat was starting, and Will's parents were like, 'Oh, you're going to need these.'
'I think they purposely don't tell you everything. They can only tell you what you can cope with in little bits'
"So he was laughing about these teabags and I was just putting the ironing all away in the kitchen. He went to take his bag off his shoulder. And then that was it. He was just standing there. And he started laughing, it must have been shock, and I said, 'What are you doing?'"
King responded that he couldn't feel his arm, and initially Barry thought he was joking. "But then when I went out and looked at him, I could tell straight away, it was definitely signs of a stroke. I phoned for an ambulance, and we lived 10 minutes away from the Royal, so we couldn't have been there any quicker, and they couldn't have been better. They did absolutely everything, but there was too much damage done, he had a massive bleed at the stem of his brain."
In the three weeks that followed, the extent of the damage caused by the stroke became apparent. "I think they purposely don't tell you everything. They can only tell you what you can cope with in little bits. He was three weeks in the Royal before he finally just gave up. So we let him go."
Sitting in the verdant kitchen gardens of The Wicklow Escape, a new culinary enterprise based near Donard, where she is executive chef, Barry looks at least a decade younger than her 36 years. She took up the job at the start of the summer, having spotted it advertised on Instagram, and the first guests checked in for the two-night, three-day all-inclusive package in mid July. She has rented a cottage nearby, and is enjoying the tranquility of rural Co Wicklow. "Everyone's so friendly. And it's a lovely community to be in. I'm just really enjoying it," she says.
It's the first fulltime position she has taken on since taking a break from the kitchen following her husband's death. "I don't know if I have all the words, if I'm honest," she says when we begin to talk about what happened. But then she speaks eloquently and openly, and refers to her late husband in a heartbreaking mix of past and present tense.
Chef Danni Barry. Photograph: Nick Bradshaw
The couple met through work. Barry, only the second Irish woman ever to be awarded a Michelin star, for her cooking at the Michael Deane owned Eipic in Belfast city centre, is from a farming family in Mayobridge, Co Down, and one of five children. She is a prodigious talent in the culinary world. Having travelled and worked in South Africa, Australia, New Zealand and Spain, she became head chef at Simon Rogan's Rogan & Co in Cartmel in the UK, and then returned to Belfast in 2014 as head chef at Eipic, where she earned a Michelin star within 18 months of opening.
King's name hints at a different background from Barry's GAA-loving farming family upbringing, but it was never an issue for them. "It became a bit of an in joke," Barry says. "Will was from the Shankill Road. He's William King, and every time we checked in somewhere, they'd be asking 'King William?', and he'd be like, 'Yes … here we go'."
Nine years older than Barry, King was initially just a friend, but over time their relationship grew into something more. "Will was the manager of James Street South, which was just beside Deanes. So when I first worked in Deanes, years ago, I would have known Will as a friend, so we're friends for a long time. Will had previously been married and had three boys. And they were great and all. And that's why we ended up getting the dog, because we had a houseful at one stage. I was probably more family focused then for a while. But now, that's … yeah, it's gone.''
The couple got married on August 23rd, 2019 at Carnaween House in Portnoo in Donegal, where their friend and former colleague Arlene Dennis was executive chef. The weather wasn't good in the run up to the wedding, but everything came right on the day. "The two days before, it was the wettest it's ever been. The marquee guys came to put up the tent and they couldn't put the floor down on it. And they were like, 'We just don't think this is gonna happen.' But the sun shone on the morning. It was the best day."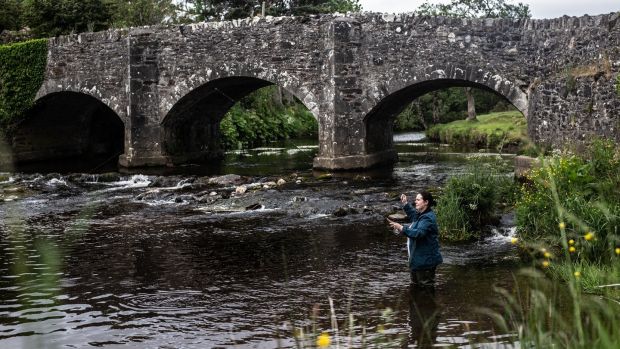 Danni Barry fishing for trout in the Slaney river. Photograph: Liosa McNamara
After the celebrations, the couple returned to Belfast. They went back to work and had "a couple of weeks of pure married bliss," Barry says. "We had booked to go to South Africa in November for the honeymoon. Because we both were really busy with work up until that point and we thought, it gets quiet at that time of year. So we put it off which, yeah, we wouldn't do again."
But the honeymoon wasn't to be, and instead Barry found herself planning a funeral. "For those first few weeks, you're actually okay, because you just have to get stuff done, and get organised. Getting the boys home, they were at uni in Scotland and Liverpool, and you know, just stuff. It's just a crazy time. My sister and my bridesmaid still hadn't finished their wedding duties, so they were running around doing everything. It was just an awful time.
"The photographer was sending me through our wedding pictures, on the same week that we were organising his funeral. It's the stuff you read about, you just never think that it will happen to you."
Barry had stepped back from the intensity of the job at Michelin-starred Eipic by that time. She says it was an impulse decision to leave. " I was happy enough just doing bits and pieces. I was living with Will, so my personal life was kind of busy then too. I was enjoying that. And it wasn't 100 per cent focused on work, 100 per cent of the time."
Her next move was to set up Clenaghan's, a restaurant with rooms near Moira in Co Down and she spent a year there, before taking up a position as executive chef at Overwood in Killinchy, part of the Balloo Inns gastropub group. She returned to work at Overwood after the funeral.
"I thought, it's Christmas, it's busy. And most people tell you, you know, just get back to routine. So I went back and did Christmas." However, it was a difficult time for Barry. "It was just things like the drive home from work, and the empty house. It didn't make sense to be in Balloo, nothing made sense. And if I was honest, I was probably really angry that, you know, he [Will] did work too many hours. And you know, you start thinking, this industry is going to kill us all."
Lockdowns were a relief, because 'people weren't asking you where you're working, or what you're doing'
Having seen the busy Christmas period through, Barry told Balloo Inns owners Ronan and Jennie Sweeney that she needed to take some time off. "I don't know how long I need off, or if I'll ever be back. Maybe I'll go travelling for a bit, or whatever, and just kind of get away," Barry told her bosses. "And they were very supportive, I couldn't fault them."
Ronan Sweeney had himself suffered a stroke at the age of 36, and Marius Clery, head chef at one of his gastropubs, The Parson's Nose in Hillsborough, died after a stroke at the age of 50. Sweeney subsequently became a campaigner for stroke awareness, organising charity events involving his employees.
As 2020 got underway, Micheal Deane, who has mentored Barry throughout her career, had begun to set her up with a job in Thailand. But then the pandemic struck and her travel plans had to be put on hold. "So I just ended up moving back home to my parents."
Lockdowns were a relief, because "people weren't asking you where you're working, or what you're doing." she says. "Before everybody went into the first lockdown, I'd already put myself on lockdown. I was really not seeing anybody, or doing anything. But it did give me time. So I was very grateful for it at the start."
As time went on, and the healing process kicked in, she took on some private catering work, helped out a few business owners who were putting pivot plans in place, and worked on the farm, calving her first cow. "But I was looking for something to focus on. I thought to myself, well, what do you want to do? Now you've had all this time and you're going to go back to work, but what do you want to go back to? I just wanted to be cooking somewhere again, for guests, you know, somewhere nice."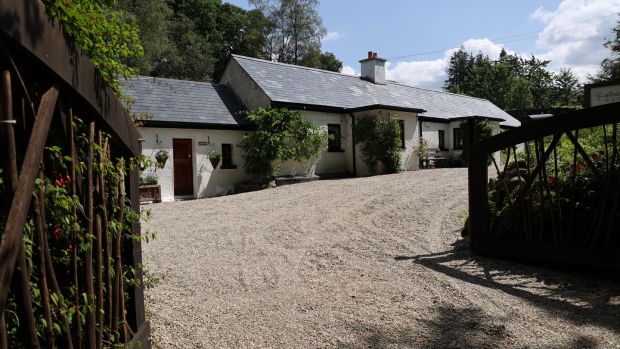 The Wicklow Escape. Photograph: Nick Bradshaw
The Wicklow Escape, with its scenic location and interesting story, caught her eye on Instagram, and she was already familiar with its sister business, The Elbow Room, a yoga and wellness centre in Stoneybatter, Dublin 7. Once she had ascertained that the job wouldn't involve cooking exclusively vegetarian or vegan food – "that wouldn't be my forte" – she was definitely interested in working there.
"So I came down for the weekend and cooked for Lisa [Wilkinson, owner of the business] and her friend, and just chatted about what she wants for here." The two women found they were "saying the same things, which is always a good sign," Barry says. She took the job as executive chef, and moved to Wicklow, bringing Sarge, her constant companion with her.
By her own admission, Barry is an ambitious person, and the package she and Lisa Wilkinson have devised for the gourmet getaways – they call them forest breaks for foodies – at The Wicklow Escape gives her plenty of scope to flex her chef muscles, while at the same time keeping the offering in sync with the surroundings. "One of the first conversations I had with Lisa, she mentioned all the suppliers that are around here, like Ballyhubbock Farm, Castleruddery Organic Farm and Ridgeway Wagyu, so it seems like a little pocket of real foodie stuff and we would like to showcase that here. When they're coming to your door with good produce, you know you're in the right place. " Much of the produce Barry is now cooking with comes from within a few kilometres of her kitchen.
The two-night, three-day breaks at The Wicklow Escape include two quite different evening dining experiences. On the first night guests eat outdoors, under cover at The Fiery, where Barry cooks on a wood-fired grill and pizza oven. A typical menu might be Ballymore organic grain flatbreads, garden salads, barbecued meat and fish, and dessert, with wine pairings. The second dinner is a more formal, though also relaxed occasion, with five courses served at the long table in the main reception room, again with wine pairings.
"I love the staycation idea, because you get two different experiences. You should feel like we're minding you, when you come here. You should be able to park the car and have a total escape, and we just want to feed you, and feed you well."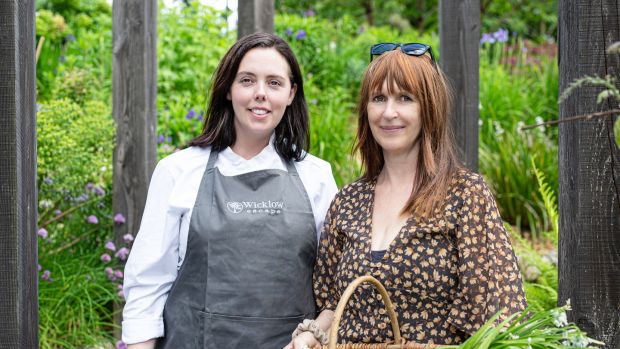 Danni Barry and Lisa Wilkinson. Photograph: Liosa McNamara
LISA WILKINSON, THE ENTREPRENEUR behind The Wicklow Escape is a mathematics prodigy, cryptographer, ceramicist, wellness advocate, doula, and barrister-in-training. The British-born businesswoman founded The Elbowroom yoga studio and wellbeing centre in Dublin 7 in 2003, and also runs a multi-disciplinary clinic, a centre for children with additional needs, a training company and an online yoga business.
But her passion project is the renovated and extended former An Óige hostel in the Glen of Imaal in Co Wicklow which is home to The Wicklow Escape. "I was looking for a business opportunity where I could maybe have a rural house, but bolt a business onto it," she says of the whitewashed cottage and adjoining hostel now transformed into a rural retreat with seven stylish en-suite bedrooms, an informal banqueting hall, outdoor dining pavilion, permaculture garden and vegetable plot.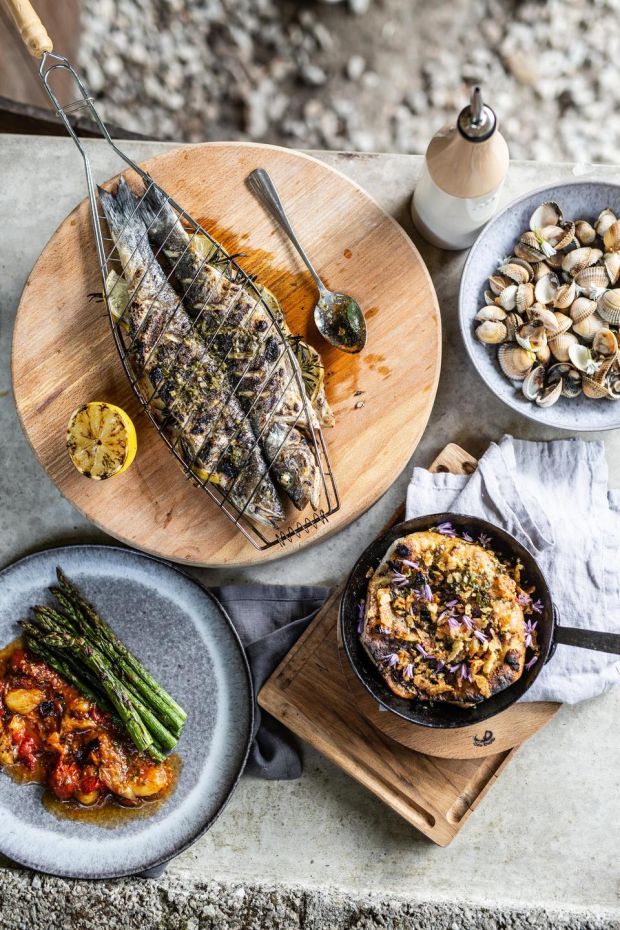 The Wicklow Escape: seabass, flatbread, cockles, asparagus, roasted tomatoes. Photograph: Liosa McNamara
Formerly The Elbowroom Escape, an off-shoot of the Dublin yoga studio, hosting weekend yoga retreats and corporate events, the venture is now described as "a mountain lodge for foodies", and also hosts weddings and corporate gatherings. Wilkinson had been familiar with the property for many years before eventually buying it in 2016. She had hosted yoga holidays there in its previous ownership, and celebrated her 40th birthday there. When it was advertised for sale, she jumped at the chance to take it on, renovating the bedrooms and the main house and cultivating the gardens, with the idea of growing food for the business.
"And then at that stage, I did what I do with most of my businesses and just kind of tried different things out. I started doing yoga holidays because it was something I knew, and then I switched more to the events, so people would hire the place and we would cater for them, and then we got more into weddings."
An introduction to hotel manager and hospitality consultant Éanna Hassett from Karen Dwyer, Wilkinson's "coach and very good friend," led to plans being put in place to offer short breaks where locally produced food, much of it from within three kilometres, is at the heart of the offering.
An accomplished chef was required to put the plan in motion, and Wilkinson advertised the position. "Hire her. Do not ask any questions. Hire her now," Hassett said on hearing that Barry had applied for the job. With Barry in charge of the kitchen, the day-to-day running of the business is in the hands of Conrad Robinson and Tatiana Amorim, both previously with Feast Catering at Powerscourt House, and Jill Robins, operations manager for all of Wilkinson's businesses. Deirdre Madden, a perinatal mental health nurse and horticulturalist, takes care of the gardens and polytunnel.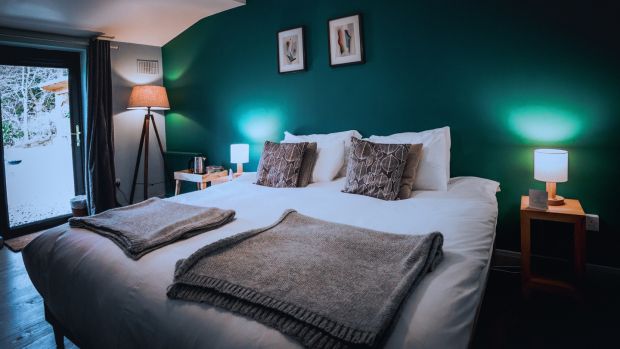 A bedroom at The Wicklow Escape. Photograph: Liosa McNamara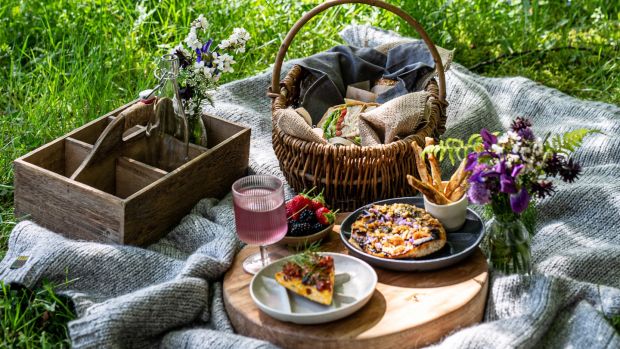 A picnic lunch is included on the second day of the three-day breaks. Photograph: Liosa McNamara
As part of the new plan, the seven en-suite bedrooms were given a stylish makeover, and the main reception space redesigned, with a stunning oak dining table taking pride of place. "My partner of 10 years, Justin Thomas, is a craftsman furniture designer and maker, and he made it," Wilkinson says. Thomas's work features throughout the property, including the bedrooms, two of which, four-person rooms ideal for a group of friends or family, have spalted beech bunk beds he made with timber from the Lisnavagh estate.
Up to 18 people can be accommodated on the gourmet breaks. Guests arrive on either Wednesday or Friday, and should pack a healthy appetite for their stay. Two dinners with wine pairings, breakfast, a picnic lunch and a farewell brunch are included in the package, which costs from €493 per person sharing a group room, going up to €668 per person for a deluxe superking. On Wednesday and Friday evenings, you can book for dinner only, €89 per person, including wine pairings.
Wilkinson plans to make The Wicklow Escape her retirement project, but with several businesses on the go and her studies at King's Inns to complete, she is staying in Dublin for the foreseeable future, leaving the country property in the hands of what she calls her "dream team".