It was exactly ten years ago today – August 1, 2012 – when Vicki Baumann's life changed in a matter of seconds.
The then 50-year-old was hit by a speeding car while crossing London's Regent Street with her husband, Mike Conn.
The collision crushed and twisted her foot.
Little did Vicki know that it would trigger a series of events which would eventually lead to her relocating to Dorset with her own yoga business.
Mike, pictured left, said: "Vicki was just slightly behind me, crossing the road, and we were about to mount the other kerb.
"A black Mercedes accelerated towards the traffic lights on the corner, wanting to get there before they changed, and clipped Vicki's heel.
"The driver didn't stop – they may not have known they'd done it as the only part of the car that touched Vicki was the rubber of the tire."
Vicki broke three metatarsals in her foot.
She said: "That was the cusp, the change really.
"The surgeon, when they discovered how bad it was, said this is a life-changing injury.
"It was significant damage and a Lisfranc injury.
"It's like the whole support mechanism of your foot.
"If you don't have the operation to replace all those metatarsals and support it, the foot collapses and you end up with drop foot so I would have been disabled.
"They had to put in metal plates to support the foot and hold everything in place.
"It was a case of six weeks post op at home with my leg up and then I had to learn to walk again.
"The plates were removed six months later."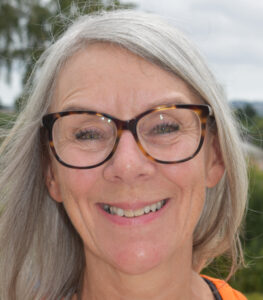 For Vicki, pictured right, a high-flying career woman whose roles up until then included co-founding and being a director of a digital printing business, it was time to change direction.
She said: "I'd practiced yoga and gone to classes from my late 20s but hadn't done it for five or six years.
"It was a really challenging time as I did everything possible to walk completely unaided again.
"There was physio, a small amount of swimming at first, walking and a little bit of running to build up strength.
"But I realized that the only thing that was going to get me back that strength and flexibility was my yoga.
"I'd always been such a hardworking, career woman but now I decided to reprioritize my health over business."
In 2017, Vicki qualified as a yoga teacher after an intensive course which included 200 hours of yoga and a further 200 hours of teaching and learning.
She immediately started teaching at weekends and evenings while still holding down a full-time job as a Client Services Director with a print provider.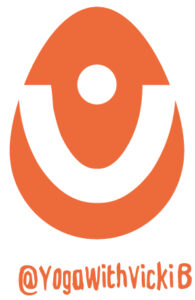 Vicki said: "I can honestly say that I didn't have any really dark days through my injury.
"I remained incredibly positive throughout thinking: 'I've just got to get to the next stage.'
"I'm always one that never looks too far but deals with what I need to deal with now.
"Step by step by step."
In 2019 Vicki made the crunch decision to devote all her energies to yoga.
She said: "Mike and I had been on a campervan holiday to Wales for a week in the summer.
"I remember the moment so well.
"Mike said: 'We've had such a lovely week but now we just go home, back to normal and I'll see you in another year'.
"I said: 'No. I need to make a change – and a complete one.
"I'm going to leave my career – and at that stage I was a shareholder in the print business – and do it properly.'
"It was a really big decision."
Vicki left her job at the end of February 2020 to launch her new yoga business.
Three weeks later the country went into lockdown.
But Vicki said: "I quickly moved my classes to online.
"Literally from the time I woke up in the morning to seven o'clock that same evening for my class we'd gone online with my dining room as a studio."
In January 2021, Vicki and Mike, a self-employed painter and decorator, relocated from Surbiton in South West London to Broadstone.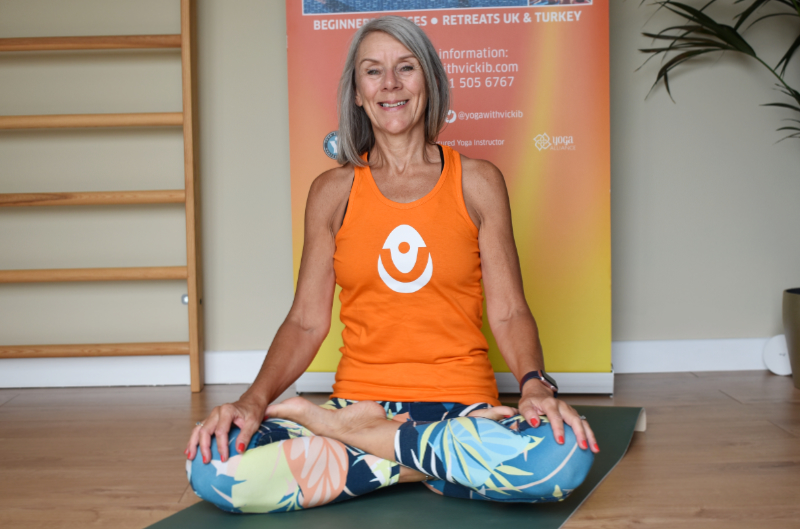 Vicki, who runs her yoga business under the name 'YogaWithVickiB', now teaches up to seven online classes a week with numbers for each class varying from six to a dozen people.
She also holds full-week retreats in Turkey as well as weekend, one day and half-day retreats in the UK and private lessons.
Her next complete yoga beginners course starts on September 12 with bookings available through her website.
Meanwhile Mike, who met Vicki in 1989 – the couple have been married for 20 years – is building up his own business, Mike Conn Decorating.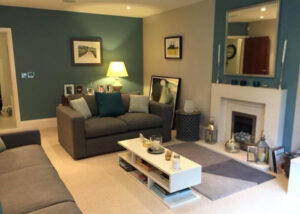 A qualified graphic designer, he has been painting on and off for some 40 years, learning his trade while doing up the couple's own houses and working for other people.
Focusing on internal decoration, his graphic design and art background means he's particularly skilled at helping clients in choosing colour, especially to 'break up' large rooms or add a focus.
Mike said: "I arrived here with no clientele apart from what I'd left behind so I had to start all over again.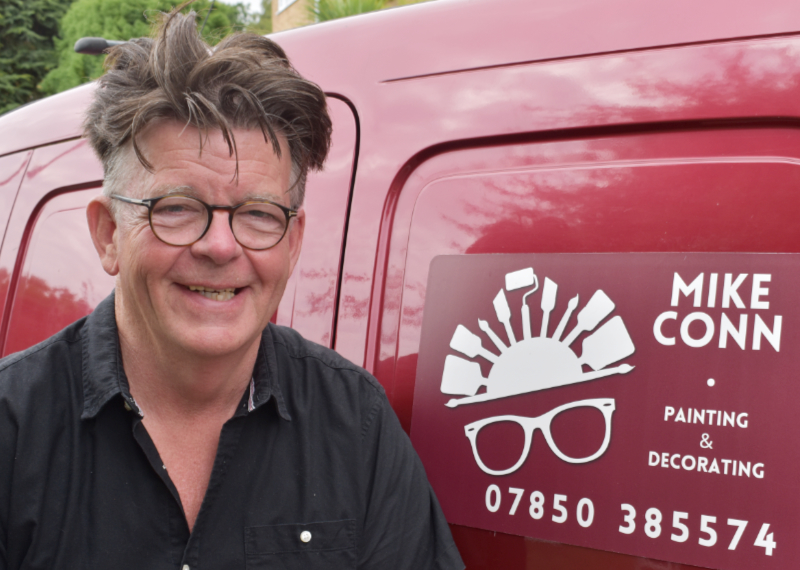 "The last two months have really started to pick up and I've got work through until September."
As for their decision to relocate to Dorset, Vicki said: "We feel incredibly settled.
"All those years that Mike tried to persuade me to come out of London – and I had my doubts – but I literally woke up the next day after moving and haven't thought about my old life at all."
Mike added: "Some days we feel the need to pinch ourselves that we're now actually living here.
"It's an amazing place."