Let your bucket list include a trip to Mount Madonna if you are wondering where to spend the first few days of 2023 in absolute peace and harmony with nature. Lord Hanuman is sitting atop Mount Madonna, where serenity is so profound that you can hear your heartbeats, reflect on your innermost thoughts, meditate on your breaths, and listen to the whispers of redwood trees. The enthralling silence of the rolling meadows and the Monterey Bay coast that Mount Madonna overlooks is broken only by the sonorous chanting of Sanskrit slokas, the ringing of the bell in Sankat Mochan Hanuman temple, and the collective voice of prayers after daily arati to the deity .
Located near the southern end of the Santa Cruz Mountains in Santa Clara County, California; Mount Madonna houses a small residential community around the Sankat Mochan Hanuman Temple. Named Mount Madonna Center, the community offers vibrant space for yoga, spiritual disciplines, cultural pursuits, personal development programs, and ayurvedic therapies across 380 acres of grasslands and redwoods steeped in tranquility. Far from the madding crowd of California, the Mount Madonna Center helps inculcate its founding principles such as selflessness, discipline, devotion, service and collaboration through daily/weekly yoga classes, Bhagavad Gita classes, guided nature walks, volunteering at the temple/center, and value-based living.
A flight of steps carved in stone leads to the Hanuman temple that Baba Hari Das from the Himalayan foothills of Almora (in present-day Uttarakhand) founded in 2003. Babaji, who came to the US in 1971 and called Mount Madonna his home until he breathed his last in 2018, is known as the Silent Monk. When he was 29 in 1952, he chose silence to connect with his innermost self and took a vow not to break this austerity till his last breath. A small chalkboard was his only medium of external communication. His life was utterly simple, immensely peaceful, and religiously disciplined. His American students established the Mount Madonna Center in 1978.
The hilltop temple dedicated to Lord Hanuman at Mount Madonna commands thrilling views of the sprawling lush green landscape and the Monterey Bay Coast below. The surrounding area of ​​the temple is an open-air gallery of beautiful sculptures and stone-carved idols placed in fountains. A few steps down the Sankat Mochan Temple, there is a Lord Ganesh temple with mythological sculptures surrounding it. A pond in front of the temple is one of the natural attractions there. The beauty of the temple is not its minimalist architecture, but its idyllic location amid greenery.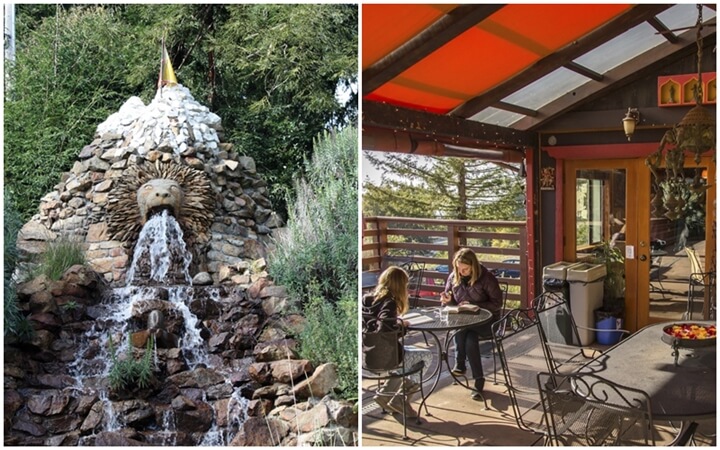 You can stop by Anjaneya World Café at the Mount Madonna Center for refreshments. Located to the right of the steps leading to the aforementioned temples, the open-air café serves tea, coffee, cold drinks and snacks in a cozy space. "I had their masala chai. It was aromatic and refreshing. Having a cup of tea while drinking to the scenic views around was a feel-good experience," said Madhuri Jain, a visiting parent of Anirudh Jain who booked his mother's Flight tickets from Ahmedabad to San Francisco through IndianEagle.com two months ago. Anjaneya World Cafe operates from 9am till 6pm.

There is also a small book shop facing the ocean. The book shop is a window to the vast world of spiritual and personal development literature. You can buy journals, books, or audio-visual materials on yoga and meditation. Mount Madonna in central California is home to Kaya Kalpa Wellness Center where you can relax and rejuvenate yourself with ayurvedic spa therapies in the lap of nature. Advance registration is recommended for a visit to the Mount Madonna Center, California.

This article is part of the series – Hidden Gems of America for the Indian Community – by Indian Eagle, a most trusted travel-booking partner of Indians in the US. Travel Beats, a subsidiary of Indian Eagle, is a one-stop portal for US-India aviation news, Indian Diaspora stories, and US visa and immigration updates. Subscribe to Travel Beats for more such stories.

Also check: Mount Soma, a Hilly Abode of Lord Shiva, is the Mount Kailash of the West


Did you miss our previous article...
https://yogameditationdaily.com/meditation-retreats/3-hazardous-selfcare-habits-to-leave-in-2022