Hope is the thing with feathers that sits in the soul and sings the melody without words and never stops … – Emily Dickinson
When Annie Ruygt moved to a small town amid a global pandemic, she came up with a perfect formula to heighten loneliness and experience exponential isolation.
After living in Napa to be close to her family, she became engaged to Eliott Bernard, a teacher at Redwood / Accelerated Achievement Academy, and moved to Ukiah in July 2020 to live with her future husband.
As an illustrator and writer, she knows the loneliness her calling imposes on her, but in a different way.
"I worked from home, completely isolated, couldn't meet anyone and was looking for a way to do public art," she says. "I was ready for anything."
She wanted to paint murals on the Palace Hotel, but when she found out it was privately owned and needed a permit, she reached out to the Arts Council and was referred to Ukiah City Program Administrator Neil Davis.
This in turn led to their collaboration with the city in creating the new Alex Thomas Plaza Outdoor Art Gallery, realizing that "the arts, creative endeavors and culture embody much of the articulated wisdom, intellect and imagination of humanity and reflect the unique way ". in which the residents of Ukiah express themselves through the arts. Public expression of art, creative endeavors and culture can aid the process of strong emotions, including the grief and loss experienced during and after the COVID-19 pandemic. "
Untitled. "This one was inspired by the feeling of being completely isolated; I went outside and it was like being in a ghost town, "says Annie Ruygt, illustrator and musician.
The new exhibition space is designed to enhance the aesthetics of the Alex Thomas Plaza, provide local artists with a public space to display their work, and act as a stepping stone to increasing the amount of public art in the city.
Annie worked with her sister, a theater production manager and set designer, on the design of her outdoor exhibit – five acrylic panels, each approximately four feet by four feet – and designed the series to reflect the past year and a half, "Roller Coaster Feelings and a Cultural Phrase "that expresses her feelings about the negative and positive aspects of pandemic loneliness.
After hearing some of their solo numbers and a few more accompanied by community musicians Sid Bishop and Jared Soinila, we moved on to the first track in their series, which depicts a neighborhood of houses of various sizes with fluorescent orange light streaming from their windows , a few trees and a small, lonely figure winding its way through streets where there is no other living being.
"This one was inspired by the feeling of feeling completely isolated, not seeing anyone, not knowing where I was in this city, knowing that people were around doing activities that made them completely isolated in their own homes see and be able to connect with them. I went outside and it was like being in a ghost town.
"I did 10 day meditation retreats, but it was different – at the end of these retreats I could always go back home and visit a friend; The worst part was not knowing when it would end. "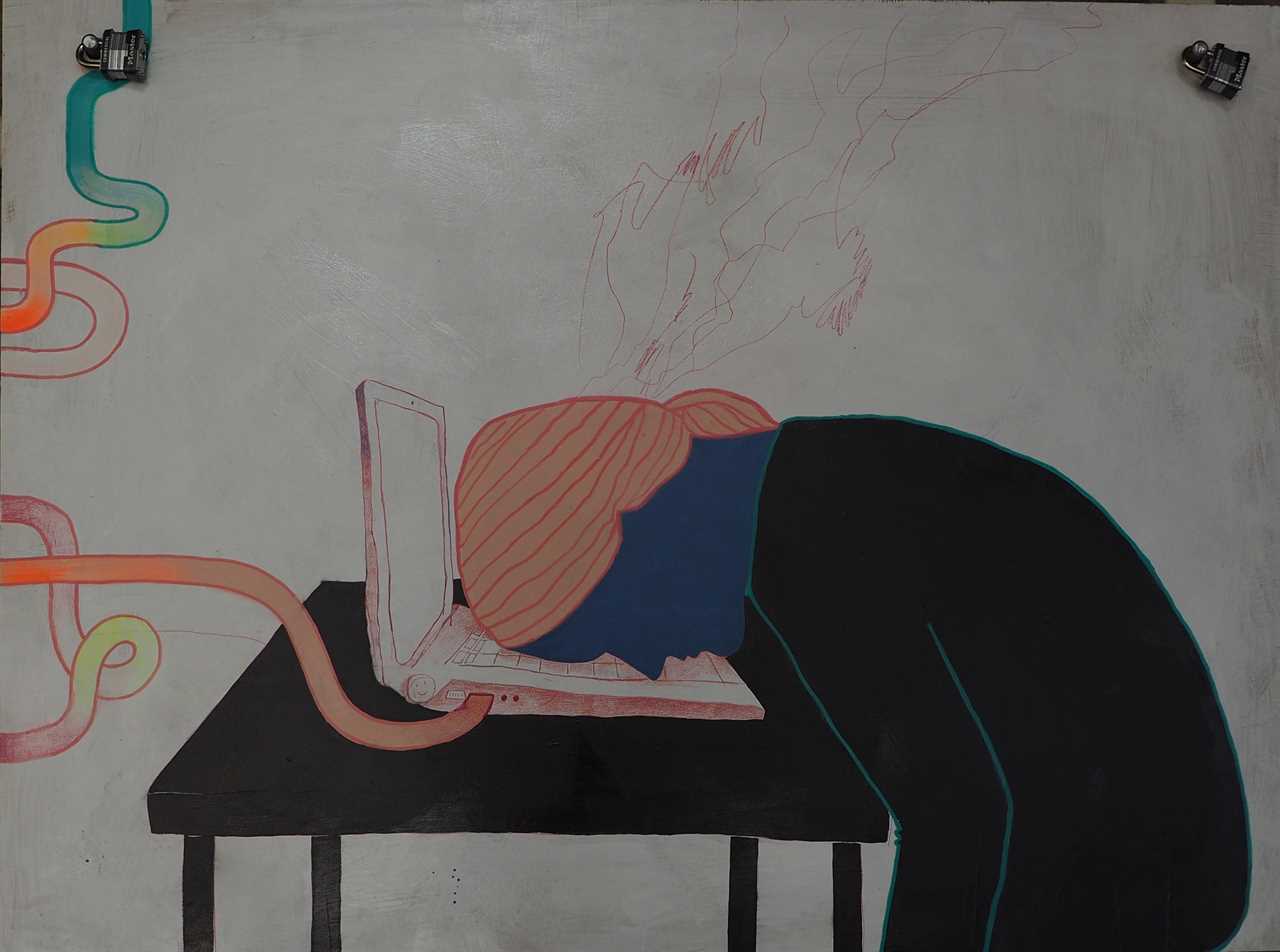 Untitled. Zoom fatigue.
She explains that prior to the pandemic, she was no stranger to experiencing feelings associated with isolation. As a writer and illustrator, she works alone all day and has moved a lot in the past five years.
"It was very familiar, but this time everyone saw it. As an adult, it is not that easy to make new friends. I went around knowing that I was anonymous to everyone; I tried to find places to join, but when all of that is gone, when there is no yoga studio, no café, what do you do? "
The next thematically similar panel shows rows of houses projecting warm orange light into the night, with figures of people and Christmas trees inside.
"I look inside. I remember going for lots of walks and seeing the Christmas trees and people in their homes because I knew I wouldn't go home to my family for Christmas."
Connecting with friends and family, singing Christmas carols on Facetime and Zoom, texting them all eased some of her cravings for connection, but also led to feeling lost in the wires of the internet and Zoom fatigue who so graphically with a self-portrait of her sitting in front of her computer with her head pressed on the keyboard and large thick wires of orange, yellow, green and blue snaking off the screen of her laptop.
"I'm still recovering from it and can no longer sit at the computer all day."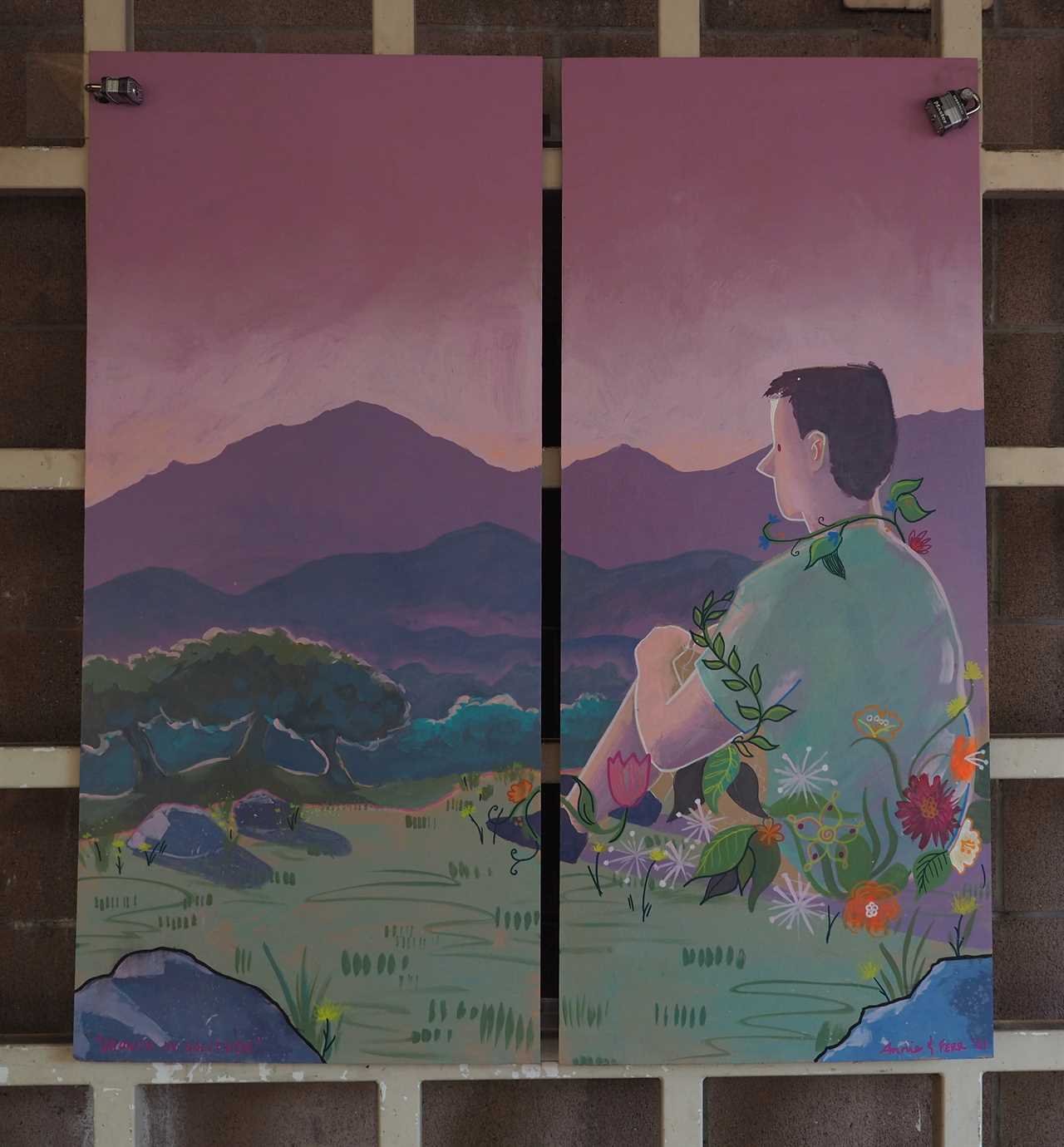 Unlimited growth

The last in the series, but the first she painted, very different from the others in style and subject, the only one entitled "Growth in Solitude" shows a male figure sitting amidst a drizzle of newly growing, colorful flowers , surrounded by grapevines, overlooks a lush hill with trees and purple mountains.

"My own inner growth proved to be the need to accept this new reality; it also gave me time to think about what I was doing with my art. It forced me to do this new type of work that I really enjoy.

She says she seldom paints and seldom does public art; She usually draws by hand on an iPad and publishes her work on the Internet.

"I was on the Internet all the time for work and when my social life had to be on the Internet, I reached my threshold. It made me come back into my hands, connect with people in real ways through art, prepare to go back out into the world and be more connected. I've learned what I really want to do. "

For more information on submitting work for the exhibition, visit www.ukiahpublicart.org or contact Marianne Davison at 707-467-5765, [email protected] or Annie Ruygt at [email protected]


Did you miss our previous article...
https://yogameditationdaily.com/meditation-retreats/what-to-do-in-ibiza-when-the-clubs-are-closed-plus-a-djs-guide-to-the-islands-best-eats