Rebecca Quinn was watching her from the other end of the world and was appalled by what was going on in Northern Ireland.
The teacher had left her home in Donaghmore in 2019 and traveled to Australia with her husband Eoin to explore a new life, but was shocked to see how her former students were doing at home, especially after the news of the transfer tests broke out .
"I had seen the news at home with the 11-plus and it touched me personally. I knew a lot of children at home, from my own family and friends, who were affected," she says.
The 30-year-old had retrained to be a yoga teacher after moving to Brisbane, Queensland and had just started her own business when the news came that Northern Ireland would be closed again after Christmas.
It was then that she came up with the idea of ​​helping children at home manage their stress levels by offering a range of yoga classes for children through Zoom. After her own teacher training, she knew how useful yoga can be for developing a healthy body, mind, and spirit and designed a course that included breathing, yoga poses, mindfulness and relaxation, and included yoga therapy exercises that addressed topics such as stress, Depression, asthma, and self-esteem.
"I had the profound effects yoga has on kids after seeing them here in Oz for just an hour on the transfer test, and my heart was broken," says Rebecca.
"I felt like I had to try to help somehow, even from a distance, so I reached out to parents I know to try it out and the results have been so positive."
Rebecca admits she was lucky enough to be living in Queensland when the pandemic broke out – she was able to continue working during the Australian lockdown last spring and life has been relatively normal since those early days compared to the UK.
"We recently had a three day lockdown but they were very strict with internal borders in Australia and kept closing them, so I was very lucky. We could live life quite normally. "And everything was open," she says.
"It was strange trying to get an idea of ​​what life was like at home.
"I thought to myself, how can I be of any help? I knew I had these skills that I had developed through my training and experience here, and I knew the impact yoga has on children, so I just decided to get into that bullet and give it a try and see who is interested.
"It was my first time teaching online and I didn't know what to expect but I was so happy I did. I just finished a four week series of classes and it was so positive. And after doing that Heard the schools stayed closed for a while, I decided to offer another four weeks to see if they were interested, the kids have almost all re-enrolled, and a lot more have enrolled too – I love I really enjoy it and the kids do too.
"I am very pleased with the response. In fact, I was contacted by a primary school in Rostrevor who wanted me to visit the entire school for yoga as part of their online learning, which I never thought possible. Only it's unbelievable. to be able to reach so many children. "
Rebecca says she taught in Northern Ireland for about eight years and had a full-time teaching position at St. John's Primary School on Kings Island, but after their wedding in 2018, her husband suggested Eoin go to Australia. While she initially laughed at the idea, she hit a nerve inside.
Close
Hannah Donnelly, 11 years old, enjoys classes in yoga
Hannah Donnelly, 11 years old, enjoys classes in yoga
"I've always wanted to travel a bit, but I thought the time was over for both of us," she says. "But I felt like I wanted to try something different and thought I would try. It was very scary making that decision because I loved the job I was in. But I had it on my mind that I wanted it. " trying something new outside of the classroom – I wanted to address an aspect of child well-being. "
Rebecca says she comes from an athletic background and has done yoga here and there all her life.
"In club football at home I would have done a little bit of yoga to prevent injuries. But when I got out of here, I definitely started doing yoga a lot more for my personal benefit.
"Since I started a year and a half ago, I had seen the impact of integrating yoga into my daily life on my mental, emotional and physical health."
One of Rebecca's first friends in Australia was a yoga teacher who was trained with Lorraine Rushton by Zenergy, the leading provider of teacher training for children and youth yoga. Rebecca took the plunge, took one of the classes, and found she loved it.
"From then on, I thought this was what I wanted to do," she says. "I've taken all of their classes and a few months ago I decided to give it a try and start my own business, Be You Children's Yoga."
Rebecca originally taught yoga in schools in Australia when the idea of ​​home teaching lockdown children took hold.
"Online teaching had never crossed my mind – I thought I didn't know how to do it," she says.
Rebecca has developed courses for two age groups – 4-8 year olds and 9-12 year olds.
"I get in touch with them at the beginning of the lesson, although I don't go into too much detail. I never push her to speak openly, "she says.
"But I have a little chat with them and they let me know that they miss their friends, they miss school, they miss being in school with their friends. It's a big deal for them right now, especially not being able to do anything outside in colder weather.
"There are the elements of homeschooling too, and they talked about how different it is. I think they generally have problems in a lot of ways.
"I definitely love teaching kids, but in the classroom I always felt like I wanted to do more, especially with regards to emotional and mental health. I knew how good exercise was and how good it could be.
"For me, after taking this first course, I had seen how it helps children holistically – meeting the physical needs, making their little bodies stronger, meeting emotional and mental needs, meeting and helping social needs to know who they are in themselves. "
The course includes mindful movement, balance postures, breathing exercises and ways of self-soothing that the children can use at any time.
"Children learn all of these tools through yoga, and you can teach them their bodies and minds," says Rebecca.
"I incorporated yoga therapy into my classes, which is capable of solving the top 20 problems kids face, from stress, anxiety, and depression to asthma, coughs, colds, bed-wetting, weight problems, self-confidence, self-esteem, and digestive problems." .
"When parents tell me that their children are suffering from anxiety, I can teach them practical exercises. I've seen the effects and how it works and it's just amazing.
Close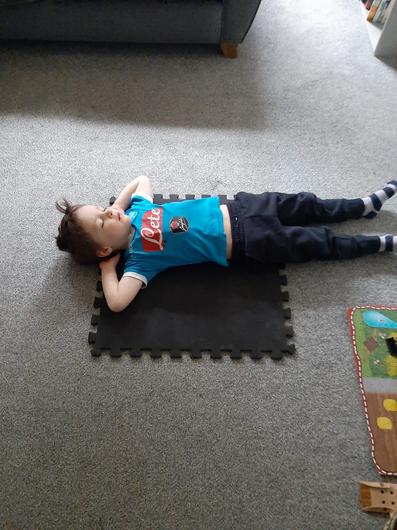 Hugo McCrory, four years old, enjoys classes in yoga
Hugo McCrory, four years old, enjoys classes in yoga
"I've had feedback from the kids and many have said they really loved it and look forward to it every week. Some say the class drives them and they feel very calm and relaxed after the class.
"And they said it helped them prepare for home schooling – we do classes at 10am and they feel ready to do those few hours of work without feeling stressed and anxious and cramped."
Rebecca says that even in just a few weeks, she saw big differences in the 9-12 age groups.
"They just know they need it and they really benefit from it," she says.
"You can tell me how you feel, what your body feels like inside, and I can educate you about your body and mind. They learn tools that they can integrate into their everyday lives, strengthen their backs and work on their digestion. "
Kitty Rose Greensword, 12, from Dungannon, is one of the local children currently benefiting from the weekly online sessions.
"Yoga with Rebecca has really helped me relax better. I'm so busy with schoolwork, but it helps when I feel overwhelmed. Everyone in the class is listened carefully and we are all having a good time!" She says.
Tomas McDermott, 11, says he loves taking the online yoga classes.
"They help me wake up in the morning and I feel ready to do a little homeschooling after doing yoga. I feel like I can concentrate better on my work, "he says.
"Yoga helps me feel calmer and more focused for the rest of the day.
Hannah Donnelly, 11, says, "I really loved learning the fun yoga dance, but my favorite part of the class is the relaxation part because it calms me down and really helps me switch off."
Rebecca plans to bring back everything she has learned when she and Eoin return home later this year, but kids in the meantime can benefit by taking her weekly Zoom classes.
"It's been a roller coaster ride for a couple of years, but luckily we're here right now, loving what we do. It was very worth it – the best we both did, "she says.
Be You Children's Yoga and Wellbeing can be found on all social networks or contact Rebecca for more information directly via email [email protected] or visit her website www.beyou-childrensyoga.com