Manju Bhargavi directs the 'Krishna Avataram' program (Facebook stream, screengrab)
Auckland Malayali Hindu Samajam (AMHS) was busy planning some events when the lockdown decision was announced on August 17, 2021.
These included Krishna Janmashtami Celebrations on August 28, 2021 and Onam, the biggest event of the year on September 4, 2021.
Onam is the main festival of the Keralites and AMHS organized this year's celebrations on a grand scale at the Mahatma Gandhi Center in Auckland City.
Our Janmashtami festival would have included cultural performances, Bhajan sessions, Shobha Yatra (dressing children as Balakrishna, Gopika, Gopakumara) and a fun Uriyadi competition.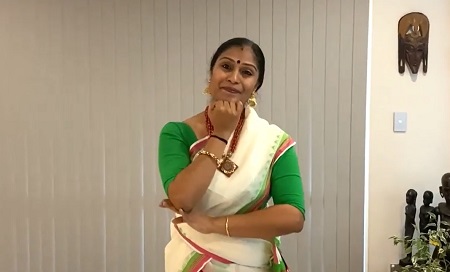 Dr. Dhanya Sreekanth performs 'Enna Thavam Seydanai', a composition by Papanasam Shivan
(Facebook Stream, Screengrab) in praise of Lord Krishna
Onam postponed to November
AMHS President Chelat Divakara Menon said officials and members of the samajam were disappointed when the lockdown announcement was made.
"These events have been meticulously planned with various arrangements over the past few months. We had all worked hard to make our festival of Onam unforgettable with traditional items and 'sadhya'. We didn't cancel our Onam Festival, we postponed it. We hope to be able to hold this event by November if the warning level allows. Many members and guests had bought tickets for the festival. There was also intensive rehearsal for cultural performances, our sponsors were looking forward to the event and our community was enthusiastic. We hope and pray that we can hold this event in November at least, "he said.
Meanwhile, during the lockdown, AMHS has been in contact with members to make sure they are safe with their families and offer them assistance when needed.
The Samajam has also planned and carried out various online events.
Onam was virtually watched with passionate cultural events streamed on Facebook.
Krishna Janmashtami Celebrations have also been moved to the virtual zone with bhajans, dances and the story of Lord Krishna as the avatar of Lord Vishnu. A highlight of the festival was a parade of children disguised as the Lord.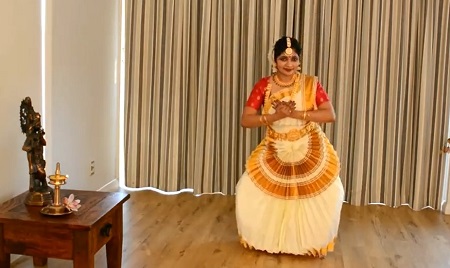 Dhanya Sujit presents a Mohiniattam adaptation of Poothanamoksham Kathakali Attakatha (the story of Lord Krishna) choreographed by Soumini Varam (Facebook Stream, Screengrab)
Ganesh Chaturthi on September 10th
Ganesh Chaturthi on the occasion of the birthday of Lord Ganesha, the remover of all obstacles, will be held on Friday September 10th 2021 as a virtual festival with dance performances, bhajans, storytelling, a classical music concert and other events.
Similar to last year, the plan is to celebrate Navratri virtually. This festival is mainly associated with the battle that took place between the goddess Durga and the demon Mahishasura, celebrating the victory of good over evil.
Virtual Navaratri 2021
Navaratri will be marked from October 9th to 15th this year.
Last year, AMHS virtually celebrated the festival with various cultural events streamed all nine nights with a combination of prayers and garba.
We had a major Navratri event planned for this year, including Vidyarambham, which marks an auspicious start to education for children, and a major event on October 16, 2021, but these are likely to be postponed due to lockdown restrictions. Even so, virtual celebrations will be held during Navaratri 2021.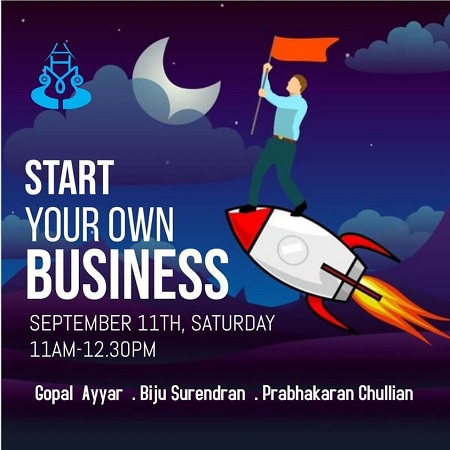 Yoga, business coaching, job support
Aside from the virtual celebrations of traditional festivals, AMHS also organizes some sessions on the Zoom platform for members at no additional cost, mainly through the voluntary efforts of some members.
These include a daily yoga session for women, coaching for business start-ups, prayer sessions for children, Ganesh Chaturthi art workshops to teach drawing and clay modeling for children, weekly Bhagavatam (Puranas) course and competitions.
The Samajam also has a very active work support group exclusively for members. The group's activities include career guidance sessions for various industries and roles with a unique approach with mentors assigned at the industry level. Participants will also receive tips and guidance on jobs in various industries. The most recent sessions held included CV and interview preparation, New Zealand labor market dynamics, business analyst and aspirant sessions.
Membership details
AMHS membership is open and applications can be made on our website (www.amhs.org.nz). Members, prospective members and others can follow the samajam's activities on our Facebook page or by subscribing to YouTube.
AMHS continuously updates its activities through these channels and through Indian Newslink.
Indu Nair is a member of the Auckland Malayali Hindu Samajam.