<img class="caas-img has-preview" alt="Who doesn't want this!? (Image: Newsquest)" src="https://s.yimg.com/ny/api/res/1.2/fKJjtnJytcobVlcXWLn.RQ–/YXBwaWQ9aGlnaGxhbmRlcjt3PTk2MDtoPTY0MA–/https://media.zenfs.com/en/northwich_winsford_guardian_155/10b7c9d48dc8ba40d4″data src="https://s.yimg.com/ny/api/res/1.2/fKJjtnJytcobVlcXWLn.RQ–/YXBwaWQ9aGlnaGxhbmRlcjt3PTk2MDtoPTY0MA–/https://media.zenfs.com/en/northwich_winsford_guardian_155/10b7c9d48dc8b40d4c2.221d4c2.221d4c>
Who doesn't want this!? (Image: Newsquest)
WHEN I heard a puppy yoga business was coming to Cheshire, I didn't have to think twice about trying it out.
It's right up my street; beginner-friendly yoga with the added benefit of cute puppies roaming around to cuddle and play with, what's not to love?
Puppy Love Yoga is the brain child of Louisa Higginbottom and Rhian Russell.
They recently brought puppy yoga (with adorable seven-week-old retriever puppies) to Higher Farm in Byley.
And I can honestly say, it was a dream.
Northwich Guardian: Puppies roaming around during the yoga session
Puppies roaming around during the yoga session (Image: Supplied)
The puppy yoga sessions last one hour, with three quarters involving basic yoga and stretches taught by teacher Carol Lawless and suitable even for beginners.
All the while, the puppies are free to roam around the room and interact with you.
The last 15 minutes is dedicated to cuddles, play and photographs with the puppies.
Yoga mats are spaced out in the café at Higher Farm (all provided, so don't worry if you're a complete beginner) and Carol explained how yoga is all about wellbeing and doing what feels good for you.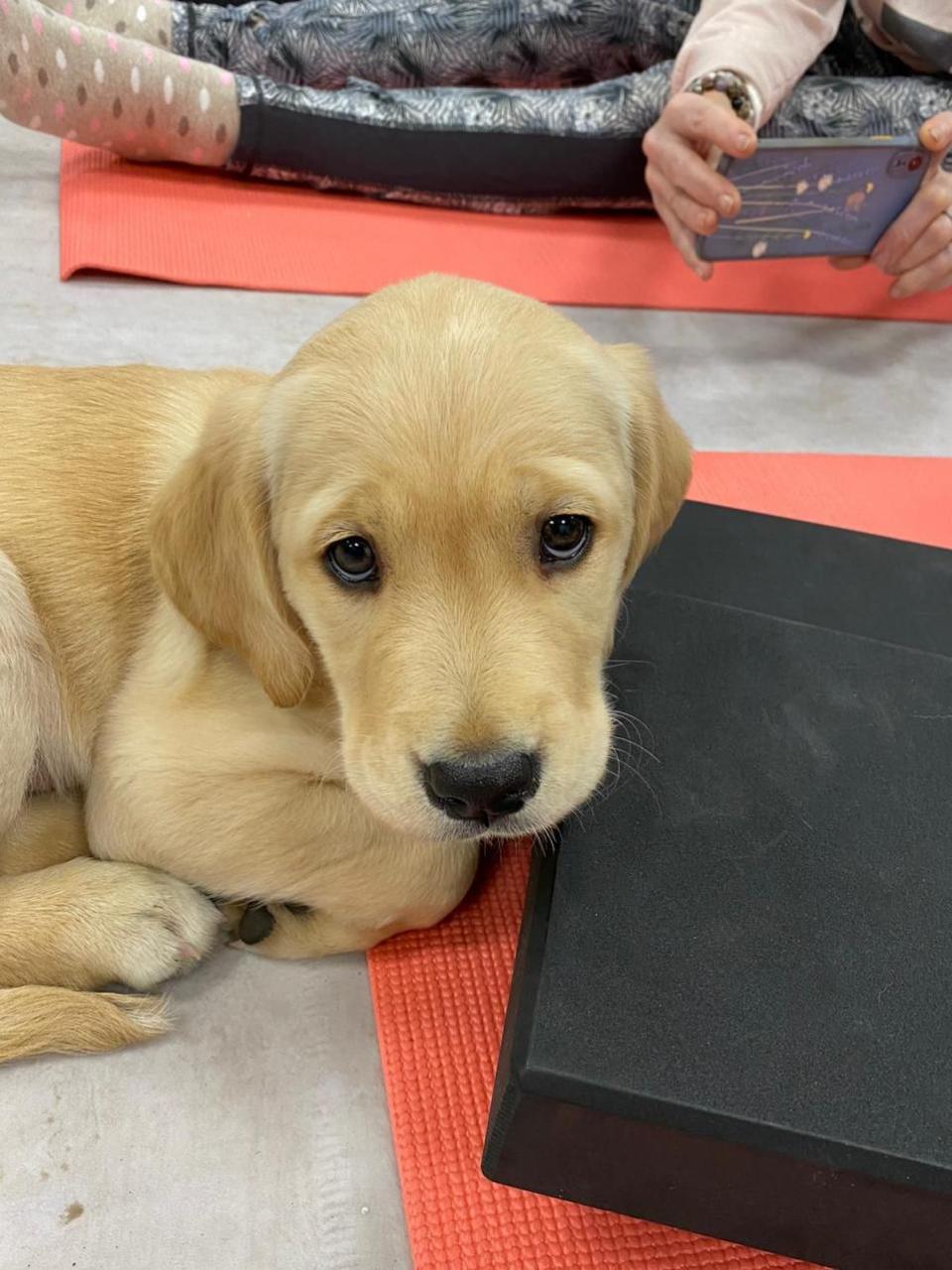 Northwich Guardian: The yoga blocks make a comfy pillow
The yoga blocks make a comfy pillow (Image: Supplied)
In other words, if a puppy decides it wants to take a nap on you and you're perfectly happy with that, don't worry about having to keep up with the rest of the group.
The yoga moves were simple but brilliant for stretching out those aching muscles after a long day slouched over a desk.
The puppies (which were all vaccinated and would be very soon heading off to their new forever homes) began the session very excited which resulted in some inevitable 'accidents' which were swiftly cleaned up with anti-bac wipes at the ready.
That's something you're not going to get away from with small puppies, not that it took away from the session in the slightest – it's all natural!
And as the yoga class wound down, so did the puppies.
Northwich Guardian: OK, this was heaven!
OK, this was heaven! (Image: Newsquest)
I'd read about the benefits of being around animals, and I know first-hand the mindful benefits of yoga – but never did I think the two would be so closely linked.
Story continues
Lying on your back, focusing on your breathing and the sensations in your body, feeling the warmth of a small, furry, adorable animal beside you is really something.
And the puppies clearly get lots out of the experience too, learning to socialize with different people and growing in confidence in new surroundings – bliss!
If you'd like to give puppy yoga a go, keep an eye out on Puppy Love Yoga's website, Facebook page or Instagram page.